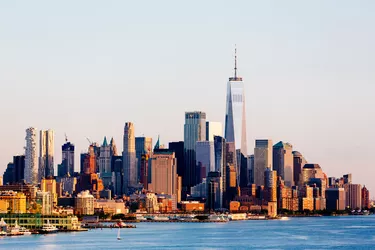 Creative careers span such a broad range of industries that it's impossible to list them all, much less cite specific locations of strong job markets. Creativity extends from the fine arts, including visual arts, theater and music, to tech-based careers like industrial design and web development. In 2020, CNBC listed 15 high-paying jobs for creative people. Here are some of them, along with the cities that offer the most opportunities in each field.
Creative Careers in Education
Teaching, whether your students are in preschool or college, requires creativity in the design and presentation of lessons and activities in any subject area, including but not limited to, music, drama and art. Pay varies by geographic location and institution. According to World Population Review, the highest average public school teacher salary, as of 2021, was paid in New York (​$85,889​), followed by California (​$83,059​), Massachusetts (​$82,042​), Connecticut (​$76,465​) and New Jersey (​$74,465​).
Public school teachers are employed by the city or state, which sets education and licensing requirements. Typical minimum requirements to teach Pre-K through 12th grade are a bachelor's degree from an accredited teacher-training program and state certification. Private schools set their own requirements and pay schedules.
Creativity in Web Development and Digital Design
Web developers create and maintain websites that are visually appealing and user-friendly. Digital designers make the work of developers possible by creating and testing interfaces and websites for functionality and ease of navigation. The U.S. Bureau of Labor Statistics (BLS) reported a median 2020 salary for workers in the field as ​$77,200​ per year. Median pay means that half in the profession earned more, while half earned less.
The highest concentration of jobs (and average salaries) were reported as follows by the BLS, effective May 2020:
Washington: ​$133,790​

District of Columbia: ​$87,220​
Utah: ​$72,150​
Wisconsin: ​$64,550​
Colorado: ​$79,750​
Employers generally seek individuals with at least an associate degree in computer science or a closely related field. Demonstrated experience may be more important to some employers than a formal degree.
Creative Careers in Film, Video and Music Production
New York and Los Angeles are obvious choices, but Moviemaker also cites some top locations that might not have occurred to you. Chosen for job opportunities and livability, Moviemaker's list includes New Orleans, LA; Santa Fe, NM; Pittsburgh, PA; and Savannah, GA.
Atlanta Institute of Music and Media lists these cities as best for performers and the production professionals who support them: New Orleans, LA; Memphis, TN; Atlanta, GA; Seattle, WA; Chicago, IL; Nashville, TN; New York, NY; Austin, TX; Detroit, MI; and Cleveland, OH.
Data from PayScale lists average salary ranges for some of the occupations within this huge industry, including the following:
Film Director: ​$35,000​ to ​$256,000​

Film/Video Editor: ​$30,000​ to ​$84,000​
Camera Operator, Television, Video or Motion Picture: ​$30,000​ to ​$107,000​
Television Production Assistant: ​$19,000 to $39,000​
Sound Engineer: ​$24,000​ to ​$98,000​
Music Producer: ​$29,000​ to ​$141,000​
Although there are no formal education requirements, individuals with a specialized degree may have more opportunities for employment and salary advancement.
Creative Careers in Industrial and Architectural Design
Industrial designers are responsible for the concepts and designs of manufactured products, from automobiles to kitchen gadgets to toys. Architects design homes, buildings and other structures for private or public use. Landscape architects design outdoor spaces from backyards to public parks.
Industrial designers, architects and landscape architects must have at least a bachelor's degree. Some employers may seek candidates with a master's degree and professional certification. Designers and architects develop their ideas and create detailed plans and cost estimates. According to the U.S. Bureau of Labor Statistics, here are the places where these professionals have the best employment options. Median 2020 salaries are shown in parentheses:
Commercial and Industrial Designers: Detroit, MI (​$82,970​), New York, NY (​$83,640​), Los Angeles, CA (​$87,190​), Boston, MA (​$85,310​), and Chicago, IL (​$76,150​).
Architects: New York, NY (​$99,300​), Los Angeles, CA (​$88,200)​, Chicago, IL (​$88,100​), San Frandisco, CA (​$102,810​) and Dallas, TX (​$83,170​).
Landscape Architects: New York, NY (​$89,350​), Washington, D.C. (​$84,590​), Philadelphia PA (​$73,380​), Denver, CO (​$77,870​) and San Francisco, CA (​$97,390​).