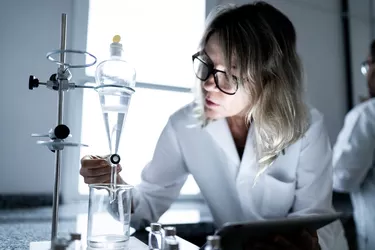 Biochemistry is a laboratory science that explores the chemical processes related to living organisms. Biochemists work in a variety of industries, including environmental science, pharmaceuticals, manufacturing and higher education. According to the employment website Indeed, the biochemist salary range for those with a Ph.D. ranges from ​$78, 002​ to ​$106,043​.
Biochemists conduct research on the chemical principles and processes of living things, including cell development, disease, growth and heredity. Their work informs product development and manufacturing in many industries. Their responsibilities typically include research projects and management of laboratory staff and facilities. They use sensitive laboratory equipment such as electron microscopes and lasers. They keep detailed records and notes, write reports and present their findings to other scientists and interested parties. In academic institutions, biochemists with a Ph.D. may teach undergraduate or graduate students in biochemistry and other closely related courses.
Biochemist Education Requirements
A Ph.D. in biochemistry typically requires four years of full-time study beyond the bachelor's degree. According to U.S. News and World Report 2018 rankings, top schools for Ph.D. programs in biochemistry included the University of California-Berkeley, Harvard University, The Scripps Research Institute, Stanford University, the University of California-San Francisco, Massachusetts Institute of Technology, California Institute of Technology, University of Wisconsin-Madison and Yale University.
There are good universities across the country, both public and private, that offer Ph.D. programs in biochemistry and related sub-fields. Prerequisites, including an undergraduate degree, grade point average and scores on the Graduate Record Exam (GRE), vary by institution. Visit the websites of schools that interest you and, if possible, talk with faculty members whose research interests align with yours.
Biochemistry is a laboratory science, so programs generally require you to be on campus in person. Some online programs are available and may be useful for administrative and management positions, but it's best to talk with professionals in the industry to find out what employers are looking for in qualified candidates.
The Biochemical Society lists a number of industries in which biochemists find employment, including agriculture, cosmetics, education, forensics, health care and pharmaceuticals. In addition to formal education, they need outstanding research, analytical and problem-solving skills, good written and oral communication skills, facility with numbers and strong organizational and planning skills.
Most biochemists work in laboratories during regular business hours, but that can vary according to the employer and the type of work involved. Some biochemists, particularly those involved in agriculture, may perform some of their research outdoors.
How much does a biochemist make? The answer depends on years of experience. A biochemist Ph.D. salary typically increases with experience, with biochemist starting salary ranges being much lower than those of more experienced professionals. The employment website PayScale lists the following average salaries according to years of experience:
Entry-level: ​$51,000​

1 to 4 years experience: ​$58,000​
5 to 9 years experience: ​$74,000​
10 to 19 years experience: ​$81,000​
20 and more years experience: ​$85,000​
As with most jobs, biochemistry degree salary ranges can vary considerably by additional factors such as the employer, geographic location and specialized skills. For the most current information, look at actual job announcements on employment websites such as LinkedIn, Monster and Indeed.
The U.S. Bureau of Labor Statistics (BLS) tracks data and makes projections for nearly all civilian occupations. The BLS groups biochemists and biophysicists together when reporting numbers. It cites the 2020 median pay as ​$94,270​ for Ph.Ds. Median pay means that half in the profession earned more, while half earned less.
The BLS projects a 4 percent job growth rate for biochemists and biophysicists through 2029, a rate considered average when compared to other occupations. The Biochemical Society is also optimistic about employment opportunities at all levels, citing a dramatic increase in funding for research in recent years and the expansion of the biotechnology industry.