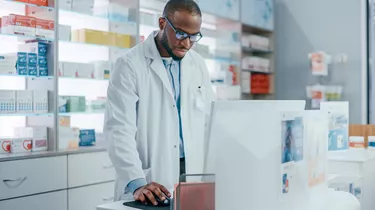 Pharmacists today increasingly need business savvy along with clinical training and experience if they expect to advance in their careers. Management and administrative pharmacy positions are highly competitive; and those with skills in problem solving, communication and leadership often get the pick of the top jobs. Linking a pharmacy degree with a Masters in Business Administration (MBA) also generally means a higher compensation package than those with a pharmacy-only degree.
Pharmacy Curriculum and License Requirements
To become a pharmacist, you will need to acquire a Doctor of Pharmacy degree. It's generally a six-year program, with the first two years devoted to coursework in biology, chemistry and mathematics. The remaining four years are an advanced curriculum in genetics, pharmaceuticals and medical ethics, among other courses.
Entrance into a pharmacy program requires passing an admissions test and the Pharmacy College Admission Test, and your college must be accredited by the Accreditation Council for Pharmacy Education. After graduation you will need to pass the North American Pharmacist Licensure Exam in order to practice as a pharmacist. Some states require additional licenses to practice.
You should also review job listings to get an idea for the educational requirements and experience stipulations at the sorts of locations you would like to work. To make yourself stand out on an application, try to follow those guidelines as you prepare for a career as a pharmacist.
Dual Degree Pharmacy Programs
In order to make pharmacists more well-rounded in specific job settings, dual degree programs are offered. Pharmacists take graduate-level courses in specific fields so that they become more useful to the organizations hiring them upon graduation.
For example, the University of North Carolina offers a dual degree pharmacy program that blends pharmacy and MBA coursework. Other dual programs combine pharmacy with social work courses. At the University of North Carolina, the pharmacy dual degree MBA program is five years long, with coursework about evenly divided between the pharmacy and business school. Rutgers University offers a similar program.
Starting Salary for Pharmacists
Are you wondering about average pay for pharmacists? The United States Bureau of Labor Statistics explains that the median salary for pharmacists is about $128,570 as of May 2021. Generally speaking, higher salaries are available at retail stores. The highest 10 percent earned more than $164,590, while the lowest 10 percent earned less than $76,840. Dual degree pharmacists can expect to start at the higher end of the range, as they will most likely be supervising other employees.
Some of the highest-paid pharmacists work to develop new drugs and are employed by pharmaceutical companies. Other high pharmacy degree salaries are for specialists carry out cost/benefit analysis on specific drugs for the government, or evaluate drugs among specific patient populations. Pharmacists with an additional degree in business, statistics or some other field will advance faster in these specialized areas.
Employment Outlook for Pharmacists
The Bureau of Labor Statistics states that the job opportunities for pharmacists are diminishing, though doing so slowly. Between 2020 and 2030, they expect these opportunities to shrink by 2 percent. The BLS expects bout 11,300 openings for pharmacists each year, on average, over the course of that decade. The industry may shift with a growing emphasis on online services and mail-order drugs, as well.
It is important to note that earnings for a pharmacist are relatively high, but some pharmacists must work weekends and holidays. In addition, the COVID-19 pandemic has changed the pharmaceutical retail industry in a variety of ways, and working at a pharmacy could be more stressful than it was in the past due to short-staffed locations and supply chain issues.