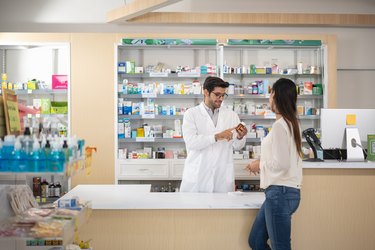 Pharmaceutical companies have a complicated pricing system for prescription drugs. Prices are not consistent across the country and even vary among pharmacies in the same town. Until GoodRx was formed, there wasn't really any way of knowing if you were paying the lowest price for your prescriptions or not.
Now, you don't have to guess anymore. GoodRx and several other similar websites can help you find the best prices and save a lot of money on your drug costs.
GoodRx is an online website that searches pharmacies in your local area to find the best prices for prescription drugs. The company has agreements with pharmacy benefits managers (PBMs) who negotiate with more than ​70,000​ pharmacies in the United States to sell prescription drugs at discounted prices. These include the major pharmacies like Walmart, Kroger, CVS, Walgreens, Costco and Rite Aid.
You'll get the largest discounts if you do not have health insurance and are paying full cash price for your prescriptions. However, it doesn't matter if you have health insurance or not. You can always compare the prices you get from GoodRx to the copay amount that your health insurance requires. In many cases, prices through GoodRx will be lower than the copay on your health insurance.
To find the lowest price in your area for a medication, go to the GoodRx website and type in the name of the drug. You'll be presented with a list of the lowest prices for the drug at pharmacies in your area. After finding the best price, you can either print out a coupon or send it to your smartphone, and then show it to the pharmacist. You can also download the GoodRx mobile app.
When you go to the pharmacy to pick up your prescription, you can have the pharmacist run the prescription through your health insurance and GoodRx. Then, you can take whichever one gives you the lowest price.
You can also sign up at GoodRx to get a member identification card that you can present to your pharmacy. However, you're not guaranteed to get the lowest price with just the card, so it's better to check prices on the website and print out the coupon before going to the pharmacy.
In many cases, prices through GoodRx will be lower than the copay on your health insurance.
Although the original GoodRx card membership is free, you'll get even better discounts if you sign up for GoodRx Gold. It starts with a free 30-day trial and then costs ​$5.99​ per month for a single member or ​$9.99​ for a family membership. You can cancel at any time.
Who Are GoodRx's Competitors?
GoodRx is not the only website that offers discount coupons for prescription drugs. There are several other websites that you can check out and compare their prices to the prices you get on GoodRx. These include:
The best strategy is to look up the prices for all your prescription drugs on each website, then compare the totals to find the lowest total cost. The prices for individual drugs may vary because each website has its own deal with the pharmacy and the pharmaceutical supplier.
By checking drug prices at GoodRx, you can learn if you're paying the lowest price whether you have health insurance or not. You're no longer at the mercy of paying whatever price your insurance carrier says you have to pay.