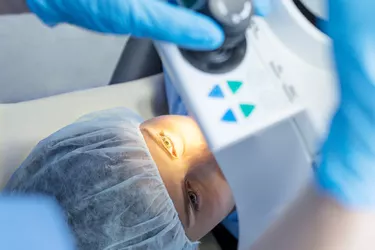 In ​1999​, the Federal Drug Administration approved a new type of vision correction. Laser-assisted in situ keratomileusis (LASIK) uses a laser to reshape the cornea, allowing patients to see clearly without the use of glasses or contact lenses. Insurance companies usually see LASIK as an elective procedure, but in some cases, you can get at least partial coverage.
What Is LASIK Eye Surgery?
Before laser eye surgery, patients had two choices for seeing clearly: eyeglasses or contact lenses. But lasers brought a new option. An estimated ​20 to 25​ million people have had LASIK procedures over the past ​25​ years, a number that some experts see as low.
LASIK surgery is an outpatient procedure where a surgeon uses a laser to reshape the cornea. It typically takes less than ​30 minutes​. The doctor numbs the eye and cuts a flap in the front of the eye to directly access the area. Risks are minimal and you can usually get back to your normal routine within a couple of days.
Insurance companies usually see LASIK as an elective procedure, but in some cases, you can get at least partial coverage.
Although LASIK eye surgery is a minimally invasive procedure, it can be pricey, depending on your budget. The average cost of LASIK is ​$4,200​, but this will depend on the provider, as well as the correction necessary to get your vision on track. Most LASIK specialists offer a free consultation to help determine the cost.
When it comes to eye surgery, though, it's important to put quality over price. Be wary of any provider offering discount prices. You'll want someone using at least industry-standard equipment who's also board certified. Many discount prices also don't include the cost of consultations and follow-up visits.
Does Insurance Cover LASIK?
Your first step if you're considering vision correction surgery is to get as much information as you can about your vision plan. Your health insurance may pay some of the cost, or at the very least provide discounts with select providers. Those with Aetna vision benefits can enjoy a ​15 percent​ discount on LASIK, while qualifying Anthem Blue Cross policyholders get up to ​$800​ off a LASIK procedure.
If your health insurance doesn't cover your LASIK procedure, there's another option. If you have a health savings account (HSA) or a flexible spending account (FSA), LASIK should be considered a covered medical expense. For FSA accountholders, LASIK could be a good way to spend health care funds that will expire at the end of the year.
Yes, both FSA and HSA funds are money that has come out of your paycheck. But those funds are pretax, and they can accumulate quickly. Check with your plan administrator to see if you have enough to cover it and ask what you need to do to ensure the procedure will qualify.
Vision insurance isn't the only way to get relief on health care expenses. There are financing options as well as payment plans offered by some medical providers. While it's best to avoid going into debt when possible, if you do go that route, make sure you're getting the best interest rate available.
Options like CareCredit offer short-term credit that could save you on interest. However, you could instead opt for a credit card with a year of no interest and pay your surgery off before the interest rate kicks in. If you don't have vision insurance, you could also sign up for insurance through EyeMed or VSP, both of which offer member discounts on LASIK.
Although most insurance plans don't fully cover laser vision correction, you can often enjoy discounts you wouldn't get if you didn't go through an insurance plan. If you're just beginning to research LASIK, consider waiting until the annual enrollment period for your insurance coverage and look for a plan that at least covers your eye doctor visits and gives you a discount on the procedure.