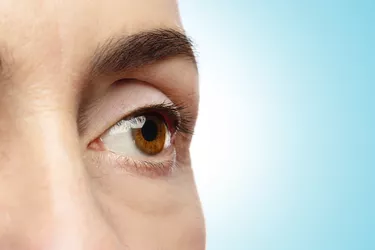 Laser-assisted in situ keratomileusis (LASIK) is commonly used to correct myopia, astigmatism and other vision problems. This type of eye surgery has almost immediate results, eliminating the need for glasses or contact lenses. Its price varies from clinic to clinic, with the average cost per eye being about ​$2,200​, reports the University of Michigan. Most health insurance plans, including Medicaid, don't cover these costs unless the procedure is medically necessary.
Tip
Medicaid does not cover LASIK eye surgery and other elective procedures unless they are deemed medically necessary. If you don't qualify for coverage, discuss your options with your employer or ask your eye surgeon about financing.
Medicaid Doesn't Cover Elective Surgery
Myopia and other refractive errors can make it difficult to read, work or watch your favorite movies. You may also experience headaches, double or blurry vision and eye strain. These problems affect individuals of all ages, from children to seniors. Yet, refractive correction treatment could help over 150 million people regain their vision, according to the National Eye Institute.
One way to address refractive errors is to get eye surgery. Unlike glasses and contacts, LASIK offers permanent results. While it cannot prevent age-related vision changes, it will reshape your cornea and help you see better. Those who undergo this procedure may regain 20/20 vision, notes the University of Michigan. Despite these potential benefits, LASIK is considered elective, or cosmetic, surgery and therefore, it's not covered by Medicaid or Medicare.
Generally, Medicaid pays for routine eye examinations, corrective lenses, low vision aids and eyeglass frames (when medically necessary). Under certain circumstances, it may also cover contact lenses, prostheses and certain medications for eye diseases, explains the Utah Medicaid Provider Manual. LASIK eye surgery, additional glasses, sunglasses and other similar services are not covered unless medically necessary.
There are cases where doctors prescribe LASIK for refractive errors caused by previous surgeries or injuries to the eye. This procedure may also be necessary for people who cannot wear eyeglasses or contacts due to physical limitations, notes Medicare.org. In such cases, Medicaid may cover the costs of eye surgery. The type and amount of coverage vary among states, so make sure you research the local regulations.
Medicaid Isn't Your Only Option
Individuals who decide to get LASIK surgery may qualify for financial help outside of Medicare and Medicaid plans. One option is to use your Flexible Spending Account (FSA) or Health Savings Account (HSA) to pay for surgery. Both plans cover laser vision correction procedures, according to the Refractive Surgery Council (RSC). Depending on how much money you have in your FSA or HSA account, you may cover some or all of the costs associated with this procedure.
Another option is to ask your eye surgeon about LASIK financing. Nowadays, many clinics offer flexible payment plans or loans that allow patients to spread the cost of their surgery over several months or years. Some don't charge interest but may require a deposit upfront. Make sure you ask about pre-payment penalties, late payment fees and other additional costs.
Your employer might be able to help, too. More and more companies are offering employee discounts for eye surgery, dental treatments and other services that are not covered by Medicare or Medicaid. Large organizations may also provide their employees with private medical insurance plans covering vision and dental care. Last, consider getting vision insurance, especially if you wear glasses or have a chronic eye disease. Vision insurance carriers may offer discounts of up to 50 percent on refractive eye surgery, says the RSC.