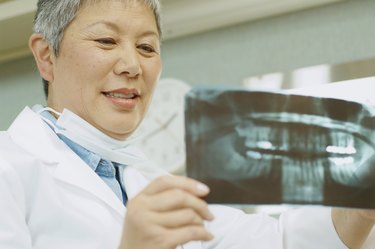 Medicaid is a joint federal and state program that helps mainly with medical costs for low-income and financially needy individuals and families. Each state administers its own Medicaid program, and while all must provide basic dental services to children, there are no minimum requirements for adults age 21 and older. Contact the Department of Human Services in your state to get the most current information about what dental services Medicaid offers.
Adult Emergency Dental Care
According to Medicaid.gov, most states that offer adult dental services as part of Medicaid benefits include only emergency care. A dental emergency generally is considered as one in which certain procedures are necessary to ease pain due to trauma or to treat an infection. For example, while the services each state offers may vary, emergency procedures in Florida include oral examinations, X-rays, tooth extractions, incisions and abscess drainage.
Adult Basic and Restorative Services
States vary considerably in offering basic dental services for adults. According to the most current information provided by the Kaiser Family Foundation, states that offer preventive services such as exams and cleanings generally limit these to once or twice per year. In addition, most do not cover restorative services, such like fillings and crowns, and no state offers orthodontic services, including either traditional or Invisalign braces to adults. However, in some states, including Florida, basic services extend to include full dentures, partial dentures and any related services.
Dental Benefits for Children
Children fare better than adults do with basic dental care. According to Medicaid.gov, all states must provide preventive, restorative and emergency dental care to all children under the age of 21. The "catch" is that all services other than an oral screening must be deemed medically necessary. Medicaid regulations require each state to develop a screening program and then refer the child to a Medicaid dentist. This dentist must provide whatever services are necessary to treat any condition the screening reveals, whether or not the necessary services are included in the state's Medicaid plan.
Orthodontic Treatment for Children
Medicaid dental benefits extend to orthodontic treatment for children if it is medically necessary. However, the state Medicaid office makes this determination, not the orthodontist. To determine whether braces are medically necessary, the child first undergoes an orthodontic assessment. The state Medicaid office then reviews the case and makes a decision. If approved, Medicaid will then pay 100 percent of the most cost-effective treatment.