With approximately 3.5 million children and teens getting braces each year, chances are good your child will need them too. Unfortunately, the cost of adequate dental care can be quite expensive, especially when it comes to traditional braces. The cost of braces for kid's teeth can run you between $3,000 and $7,000. If you are having trouble affording braces for your children, you can find several sources of financial help for orthodontic treatments to make them more budget-friendly.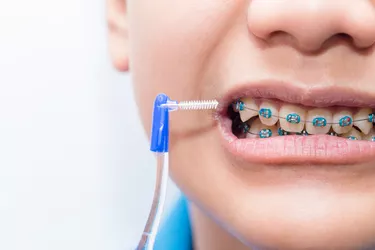 Medicaid Dental Benefits & EPSDT
By law children in low-income households are entitled to full dental coverage provided through the state by Medicaid. If your family is eligible to receive Medicaid, you can often obtain orthodontic treatments for your child at little or no cost at all. Braces and dental treatments for cosmetic purposes are not covered, but if they serve to correct a medical purpose most cases are approved. In most states, Medicaid provides orthodontic services — including braces — through the Early and Periodic Screening, Diagnosis, and Treatment program (EPSDT). Contact your local department of Children and Family Services to see if the EPSDT covers braces for kid's teeth in your area.
Low-Income Programs & Financing
If you're a low-income parent but not eligible for Medicaid orthodontic programs, you may be able to seek assistance from the "Smiles Change Lives" program. No matter what state you live in, if your income is less than 100 percent of the current federal poverty level and your child in need of braces is between the ages of 7 and 21, he may be eligible to qualify for full orthodontic treatment for as little as $650. Another option for families on a budget is orthodontic financing. Major dental care chains such as "Dental Works" have offices nationwide and can approve you on-the-spot for financial assistance in affording your child's braces.
Orthodontic Schools
An affordable way to provide your child with braces — or other dental procedures — is to patronize dental clinics run by university run schools of dentistry. Numerous colleges nationwide have dental clinics open to the public where student dentists provide orthodontic treatments to patients under the supervision of professors, dentists and certified staff members of the orthodontic facility. Many of these student-run clinics have special kid's orthodontics departments as well. A few colleges that offer orthodontic services at discounted prices include University of Illinois at Chicago College of Dentistry, University of Michigan School of Dentistry and the CUBraces program at the University Of Colorado Dental School.
Orthodontic Insurance & Dental Plans
One way to save money on your child's braces is to invest in a dental insurance plan that include orthodontic treatments — such as braces — or buy a membership to a dental plan with orthodontic coverage. Adding orthodontic treatments to your current dental plan will definitely raise your monthly premiums and you will be required to pay any predetermined co-pays and deductibles, but having this coverage can still alleviate a the financial strain of paying out-of-pocket for the entire treatment. Dental plans require monthly payments as well, but typically provide a savings of 30 to 50 percent of the cost of kid's braces.
Low-Cost Alternatives
When all else fails and you are unable to afford braces for your child, consider an orthodontic alternative to braces. Ortho-Tain is a removable orthodontic treatment that can save you up to 50 percent of the cost of traditional braces. Your child will be fitted for a clear plastic mouthpiece that invisibly straightens teeth in a shorter amount of time than braces and you can also add a nighttime attachment to prevent snoring. Children as young as five years old can benefit from the use of Ortho-Tain.