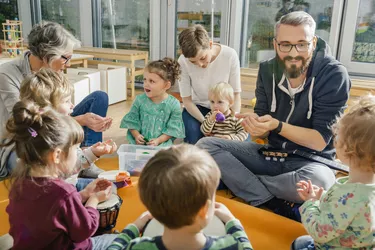 Even if you were prepared for the high cost of raising a child, the blow to your household budget can continue to surprise you. That cost includes early education, with average preschool costs estimated at ​$12,500​ per child. A co-op nursery school lets parents participate in their child's preschool experience while also saving families money.
What Are Co-Op Nursery Schools?
For families with a stay-at-home parent or flexible schedules, preschool offers an early educational experience with skilled teachers. But the high cost of preschool is only one factor. It also takes kids away from their parents for hours at a time. A cooperative nursery school welcomes both parents and their children, with educators working alongside parents to teach children.
Although each cooperative preschool is different, they typically have the following features in common.
They're open to young children. Most co-op nursery schools accept children between the ages of ​2​ and ​5​.
Parent involvement is a large part of the process. The educator will often observe the child-parent interactions and tailor learning to those observations.
The learning experience is fun. A hallmark of preschool has long been combining learning with the toys and games kids like to play in early childhood.
Parents help run the school. Another unique feature of the parent cooperative is that parents make some of the big decisions. The school board is usually all parents, and those parents choose teachers and make other important decisions about the operation of the school.
Cost of Co-Op Nursery School
The cooperative nursery school tends to be more affordable than one where teachers do all the work. Instead of paying hundreds per month for preschool, co-op preschools and nurseries allow parents to pay a fraction of that. Costs vary from school to school, but here's a sampling of tuitions at co-op preschools and nurseries around the country:
In addition to monthly tuition, there will typically be enrollment fees, late fees and other ancillary costs. Some schools also offer discounts for multiple family members. Many schools price based on a sliding scale that is determined by the child's age at the start of the school year.
A co-op nursery school lets parents participate in their child's preschool experience while also saving families money.
Disadvantages of Co-Op Nursery Schools
Although parent participation nursery schools can serve as a great alternative to traditional preschools, there are a few disadvantages.
​Parental time commitment:​ The co-op experience is set up for parents to attend some or all of the time. Parents may also be asked to pitch in on extracurricular activities and attend meetings.
​Lessons can be advanced:​ Some parents find that the curriculum at a co-op nursery school can be more advanced. It's not just the professional teachers, handpicked by parents, but it's also the one-on-one attention the smaller groups of children get. This can, of course, vary by location.
​Working with other parents can be challenging:​ All parents have opinions on their children's learning journey. The parent education model can bring out competitive parenting behaviors, which can lead to drama. Since parents drive decision-making at co-op nursery schools, you don't have the unbiased leadership you'd get when your kids are in more traditional learning environments.
If you have a love of learning and want to be a partner in your child's early education, a co-op nursery school might be a great fit for your family. Research the various offerings in your area and look closely at each program. Since co-op nursery schools can vary dramatically from one location to another, whether it's a better alternative to other preschools depends on what's available in your town.