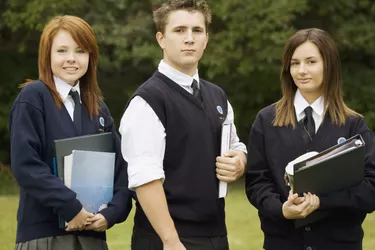 More than 2 million children attended the 6,685 Catholic schools across the United States in 2012-13, reports the National Catholic Education Association. Paying the average $3,678 elementary school tuition and the $9,622 secondary school tuition per child can be difficult for many families even in healthy economic times, but there are ways to do it.
Step 1
Ask your school about scholarships and grants available through the diocese. Scholarships and other sources of funds vary from school to school; there is no national scholarship program for Catholic schools. For example, the Diocese of Rockville Center, New York has the Tomorrow's Hope fund to help needy families pay the tuition for that school. Catholic schools usually have development offices that seek out funds from community members, businesses and wealthy alumni.
Step 2
Some schools may have work study programs for high school students. Students may work for the school or the church during the summer in exchange for tuition money.
Step 3
Relatives can be a source of financial assistance. Ask grandparents, godparents, aunts, and uncles to contribute to your children's tuition instead of expensive presents. Some schools even have a program where a person can purchase a voucher or certificate for the tuition money they donate.
Step 4
Get a part-time job. Older children can also contribute to their education fund by making money mowing lawns, babysitting or delivering newspapers.
Step 5
Cut out excess spending. Instead of eating out or getting take out on your way home from work, prepare meals at home. Take a good look at how much you spend and determine what you can do without. Pack your own lunches for work and do the same for the kids' lunches.
Step 6
Save money on school uniforms. Buy gently used or hand me downs from older children. Start an uniform exchange program at your school to help parents save on the price of clothing.
Step 7
Organize your own fundraiser. Have a garage or yard sale every year to get rid of old stuff and make extra money to go towards tuition.
Step 8
Talk to your school about payment plans or financing options that can help you spread out tuition payments throughout the year. Schools may offer an installment plan instead of paying in full each semester.
Tip
Planning financing options ahead of time may not always be an option, but doing so can be extremely helpful. Starting early and creating an educational savings account for your child before he starts school can really help. Planning ahead can also ensure that you meet financial aid deadlines.