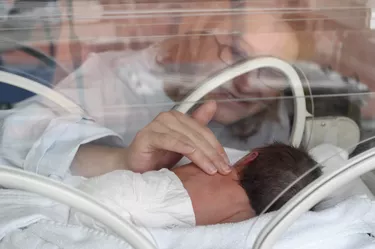 Babies born before the 37th week of pregnancy are at higher risk of having birth-related complications and long-term health problems, according to the American Pregnancy Association. As a result, the families of premature infants face emotional and financial stress. Fortunately, financial help from government and private agencies is available to parents and caregivers who meet the qualifying criteria for these programs.
Preemie Parents Foundation
The Preemie Parents Foundation offers grants to parents and caregivers of infants who suffer medical complications due to premature birth. Families who receive "I" grants can use the funds to help pay for temporary skilled nursing care for the baby once insurance benefits run out or for counseling sessions for caregivers that aren't covered by insurance. In some cases, grant funds provide financial assistance for education programs for parents who need to train for different careers so they are available to provide the special care their premature infant needs. Money from "I" grants also pays for alternative therapies to help families cope with the stress of caring for a sick baby.
Miracle Babies Organization
The Miracle Babies Organization offers an assistance program to help families who qualify. To be eligible, a family must have a premature baby hospitalized in a neonatal intensive care unit. The family must help care for the baby, visiting as often as possible. A baby must be in the NICU for at least two weeks before a family can apply for assistance. Criteria for determining a family's need includes assessing the severity of the baby's medical condition, length of stay in the NICU and the family's income-to-debt ratio. Financial assistance helps cover the cost of expenses such as transportation to and from the hospital or basic living expenses if a family temporarily relocates closer to the hospital.
Caiden's Hope Foundation
Caiden's Hope Foundation is an organization that provides help to families who have a premature infant receiving medical care in a neonatal intensive care unit. Support from the organization helps to cover unexpected costs associated with hotel stays and travel-related expenses for families with a child in a hospital NICU far from their home. NICU hospitals throughout the nation work with Caiden's Hope Foundation to assist families in need. Parents can contact a hospital's social services caseworker to find out more about requesting support from Caiden's Hope Foundation.
Government Assistance
Babies who are born premature often qualify for Supplemental Security Income and Medicaid. As long as a family meets the income and asset requirements, a child who weighs less than 2 pounds, 10 ounces, at birth or no more than 4 pounds, 6 ounces, but is small for her gestational age can qualify for SSI benefits. In many states, a baby who gets SSI automatically is eligible for Medicaid to help pay for health care costs. Parents can apply for SSI benefits for their child at a local Social Security Administration office.