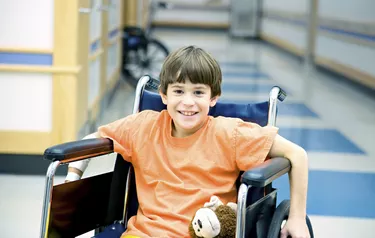 You can locate grants for children with special needs at state and federal government levels as well as in the private sector. Some of these grants are for educational purposes, while others may be for personal and family development. By following a few simple tips, you'll be well on your way to finding the appropriate grants.
Step 1
Find charities associated with special-needs children and join at the national or local level. Membership is generally free, and they provide educational and advocacy services for children with disabilities and their parents. These groups may also know of public and private resources available for children. Locate these groups online or use a telephone directory.
Step 2
Look for grants at the federal government level. Go to the U.S. Department of Education website (Ed.gov) to identify grant opportunities and determine eligibility. This agency offers preschool grants and many other grants for children with disabilities. Click on the "grant opportunities" link to see a list of opportunities.
Step 3
Contact your state education department and children's administration office to find grant opportunities for children with special needs. Have a staffer explain the grant process and give tips for completing the application.
Step 4
Contact organizations that focus on specific disabilities to find grant opportunities. For example, the National Autism Association provides charity and government grant opportunities for children with autism and their families. Grants are awarded based on financial need.
Step 5
Speak to a social worker or a counselor at a school or hospital to learn about grant opportunities for children with special needs. These professionals may have access to state and local resources that provide money. Discuss your financial situation and your need to apply.