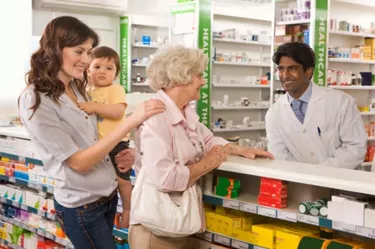 An estimated 30 to 38 million people provide unpaid care to the elderly or disabled, according to 2006 AARP data. The Social Security Administration's website states, "There is no provision in the Social Security Act to provide benefits for caregivers of the aged or disabled." However, there are several federal and state programs that offer resources and assistance for caretakers.
State Programs
Several states fund programs that provide resources and assistance to unpaid or "informal" caregivers. California's Caregiver Resources Center supports the caretakers of adults with brain disorders, such as Alzheimer's disease and Parkinson's disease. The Pennsylvania Family Caregiver Support Program offers resources such as counseling, education and financial assistance for medical supplies. Other states with similar support programs for adult care providers include New Jersey, Florida, Georgia, South Carolina and Nevada.
National Family Caregiver Support Program
The National Family Caregiver Support Program, or NFCSP, assists certain types of caregivers, including those who care for people who have Alzheimer's disease or are over the age of 60. NFCSP services vary by state but may include counseling, caregiver training and provision of medical supplies. You can find out more about the assistance available in your area by contacting your local Area Agency on Aging (see Resources).
Family and Medical Leave Act
Caretakers who have another job outside the home may be concerned about the effect of care taking on their employment. The Family and Medical Leave Act provides some job protection for caretakers. According to the Department of Labor, employees can take up to 12 weeks of leave per year to care for "a spouse, child or parent who has a serious health condition." The act does not require the employer to pay for leave, but it does protect the employee's job and health insurance.
LIHEAP and SNAP
Caretakers may find that providing care for someone reduces their own income. Those who meet certain income and other eligibility requirements can receive some forms of financial assistance, such as help with food and heating costs. The Low Income Home Energy Assistance Program provides assistance for heating and cooling costs. The Supplemental Nutrition Assistance Program, formerly known as food stamps, provides assistance for purchasing groceries. Eligibility requirements for both programs vary by state; you can contact your local Social Services office for more information (see Resources).