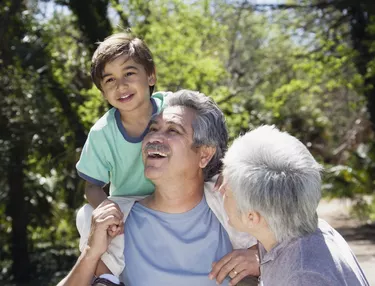 More than five million children live with their grandparents, according to AARP. Grandparents who have legal custody of grandchildren have several resources for financial assistance through government agencies, social service organizations and private foundations. Many financial resources and support services are targeted to families referred to as "kinship care" and "grandfamilies."
Child Support from Parents
The court can require the child's parents to pay child support to the grandparents. Contact the child support unit of your county court or the local department of social services. Some government agencies will require you to file papers to receive such support.
Social Security Administration
Your grandchild might be eligible to receive monthly benefits from the Social Security Administration if the parent is deceased or disabled, or if the child is disabled and meets the other requirements. A child with a disability also might qualify for Supplemental Security Income based on the parents' income. Contact the SSA or visit a local office for more information on benefits to which you or your grandchild might be entitled.
Local Departments of Social Services
Your local department of social services provides monthly financial assistance to grandparents and others raising children. Contact the social services office in your city or county. Many agencies have units and workers assigned to handle assistance for kinship care and grandparents.
You might be eligible to receive a monthly check from Temporary Assistance to Needy Families.

Grandparents might be able to receive foster-care payments or other subsidized guardianship payments if children are placed in the home by the child welfare system.

The Supplemental Nutrition Assistance Program, previously called the food stamp program, provides monthly benefits to purchase food.

Your grandchild might be eligible for health insurance through the Medicaid program or the Children's Health Insurance Program, or CHIP.

Social service workers will have information about other types of financial assistance - - such as free preschool and day care assistance - - available to kinship care families and, specifically, for grandparents.
Tax Credits
Ask your tax professional about credits and deductions that can reduce your tax burden. You may be able to take advantage of the dependency exemption and, if you pay for child care, the child and dependent care credit. You can claim education expenses, including tuition, paid for a child with disabilities as medical expenses. Take federal tax credits for higher education, like the American Opportunity Tax Credit, for older grandchildren who are off to college.
Locating Other Resources
Workers at local social service offices often know about programs offered by other organizations, such as kinship care grants from private foundations and one-time offers of financial assistance from local charities for expenses like camp fees or dental expense. Visit the AARP website to search for your state's GrandFacts fact sheet. Each sheet lists assistance and resources located in the state for grandparents who are raising grandchildren. If the child welfare system is involved, talk to the court appointed special advocate or guardian ad litem assigned to your grandchild. Join a local grandparent or kinship care support group to stay abreast of programs that can help.