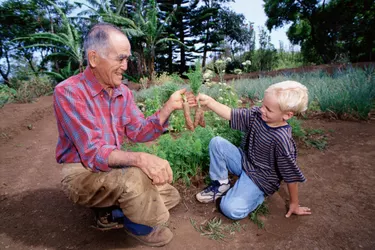 The Children's Defense Fund estimates about 6 million of the nation's children reside with grandparents or other relatives. In 2.5 million of these cases, neither parent is present, placing the responsibility of raising the child on the relative caregiver. Many of these children reside in households where the grandparent is retired and living on a fixed income. Various financial assistance programs are available to grandparents who need help meeting the needs of a grandchild in their care.
TANF
Temporary Assistance for Needy Families is a program providing financial assistance to low-income families. Each state sets its own eligibility guidelines and also determines how much financial assistance individual families will receive from the program. The child-only grant is available to relative caregivers of children who have no income or assets of their own. These grants are small and usually inadequate for meeting the needs of a grandchild in your care. Family TANF grants provide more cash assistance; however, you must meet the state income guidelines to be eligible. Federal guidelines also impose a 60-month limit on this grant, and many retired grandparents need financial assistance for more than 60 months when caring for a child.
Subsidized Guardianship
Subsidized guardianship is another possible option for relative caregivers needing financial assistance. States vary in their subsidized guardianship programs, but many states provide subsidies for relatives who have legal guardianship of children who have been in the state's foster care program. A few states offer subsidies to relative guardians of children with special needs only. States differ in the amount of subsidies they provide; in some states, the subsidized guardianship program offers monthly cash assistance equal to what caregivers in the foster care program receive for children. The federal government does not provide guardianship subsidies for relative caregivers.
Foster Care Payments
Grandparents of children who are in the state's foster care program may qualify to receive foster care payments for grandchildren in their care. These payments are normally higher than what you would receive for a child through a TANF family grant. However, many grandparents step in to care for their grandchildren before the children enter the state's foster care program. Most prefer to keep their grandchildren out of the child welfare system and are, therefore, ineligible to receive foster care payments through state, county or federal funding. States also provide adoption assistance programs to relative caregivers who adopt the children in their care. Again, a child must have been involved beforehand with a state child welfare agency for a grandparent to qualify for the subsidy.
Social Security Benefits
Children under the age of 18 may be eligible for social security dependent benefits. A grandparent can apply for benefits for a child based on the parent's work history. The parent must be collecting disability insurance benefits or be deceased for the child to qualify. A child may also qualify to receive dependent benefits based on a grandparent's work history. The grandparent must be caring for the child because the parents are either disabled or deceased. At least one-half of a child's support must have come from the grandparent during the year prior to the grandparent becoming eligible for Social Security benefits. Children who are blind or disabled and have limited income and assets of their own may qualify for cash benefits through the Supplemental Security Income program – another benefit program administered by the Social Security Administration.