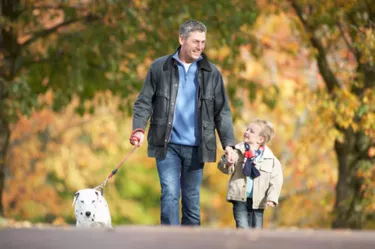 As a result of a divorce, separation or the inability of a mother to provide care, fathers may take custody of their children and care for them with or without the aid of the mother. Single fathers face many of the same challenges as single mothers such as child care and the absence of a secondary income. This absence of income can lead to children lacking in the daily care that they need. Though not as plentiful as those available to single mothers, a few financial resources exist to assist single fathers.
Child Support
An often overlooked financial resource for single fathers is child support. Typically, fathers are ordered or voluntarily pay child support while their children are in the custody of the mother. However, under rules of the Child Support Enforcement Program, non-custodial parents are responsible for contributing financially to the support of their children. Thus, single custodial fathers--in instances where the mother will not make voluntary payments--can file a motion for child support through their local courts. If a father has no information on the whereabouts of a mother, the Child Support Enforcement Program can assist in locating her.
Food Stamps
Depending on a father's income, he may be eligible for food stamps through the local welfare office. Food stamps are used strictly for the purchase of food and can be used in grocery stores and convenience stores. As of 2010, food stamps are issued under the Supplemental Nutrition Assistance Program, a federal program that has been passed on to the states. Under the program, electronic debit cards are issued that must be swiped for purchases (similar to debit and credit cards). Gettingfoodstamps.org provides a calculator as a preliminary method of checking eligibility for food states. Eligibility is also based on assets and monthly expenses such as rent or mortgages payments and utility payments.
Financial Aid
For single custodial fathers with children who are in high school and planning to attend college, financial aid through federal programs can be one way to alleviate the burden of paying or college. The Free Application for Federal Student Aid (FAFSA) provides funding for college based on income, bank statements and assets. Applications are available at fafsa.ed.gov and should be submitted to the Federal Student Aid office of the U.S. Department of Education before the deadline. By completing the FAFSA application, fathers may receive a Tuition Assistance Grant (TAG) for their children.