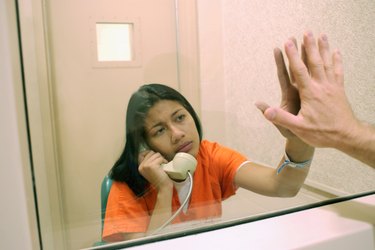 When a family member is incarcerated, it's a blow to a family's financial standing. Not only is there a loss of income from the incarcerated individual, but there are additional costs such as prison phone calls, visitation, child care and legal fees. This does not mean that all is lost for families of the incarcerated. There are programs available to help a prisoner's family financially.
Food and Housing
Several types of government programs can assist those in financial need, such as families of the incarcerated who have a reduced income. These programs cover areas such as financial aid for cooling and heating bills, energy assistance programs, and food stamps to help cover a family's grocery bills. Contact the county welfare office to learn more about these programs and options. Programs such as the Temporary Assistance for Needy Families (TANF) program provide financial help to families with children who can't meet their basic needs (see Resource 1). The U.S. Department of Housing and Urban Development offers reduced rents for public housing and apartments (see Resource 2).
Insurance, Child-care and Education
While every state has different criteria, most have programs that help cover insurance for low-income families. There are also programs like the Child Care Assistance Program to help cover child-care costs when a parent is incarcerated and finances are tight. If a family member of an incarcerated person is trying to get an education, the family members could apply for grants. The Sunshine Lady Foundation (see Resource 3) offers a Woman's Independence Scholarship Program that provides victims of domestic abuse with an opportunity to attend a college full- or part-time so they can gain personal independence and employment while their family member is incarcerated.
Charities That Help
If families of incarcerated individual have needs that the government can't reach, a variety of charities are around to help. Many synagogues and churches offer clothing, shelter and food. They might also offer services such as job training, literacy programs and employment. Depending on the location and services offered, charities might also supply transportation to and from a person for visitation so a family does not have to pay for gas.