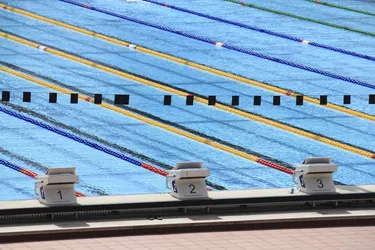 Swimming pools are great sources of recreational fun for kids and adults. These water facilities are also part of a school's physical education courses and sites for water competitions. State and federal government agencies sponsor programs awarding grants to cover the construction, renovations and repairs of swimming pools. Grants cover labor costs, equipment and land purchases. Recipients may have to fund some of the project costs, as some grants do not cover all of the expenses.
Outdoor Recreational Grant Program
The National Park Service sponsors the Outdoor Recreational Grant Program. Park districts as well as local government agencies apply for grants to acquire land and plan and develop recreational areas for the public. Eligible projects include swimming pools, picnic areas, campgrounds, bike and walking trails, tennis courts and soccer fields. Water facilities, restrooms and roads are constructed using funds as well as equipment purchases. Grants cover up to 50 percent of the project costs.
Community Facilities Grant Program
Community swimming pools and other facilities in rural areas are constructed, renovated and expanded by projects funded by the U.S. Department of Agriculture. The Community Facilities Grant Program provides grants to municipalities, towns and districts with fewer than 20,000 residents to fix facilities used for community, public safety and health-care purposes. Grants also cover equipment purchases. Up to 75 percent of the approved project costs are paid for with grants. The program gives communities with the lowest populations and income levels higher priority when awarding grants, with communities of less than 5,000 residents or with median incomes below the 60 percent of the non-metropolitan statewide median income receiving highest priority.
Community Entitlement Grants Program
Grants are available to construct, renovate or improve community swimming pools in urban areas from the Department of Housing and Urban Development. The Community Entitlement Grants program awards grants to cities and counties with over 50,000 and 200,000 residents respectively to fund community projects to improve economic development and the living conditions of their residents. Other eligible projects include land acquisitions, construction and rehabilitation of residential and nonresidential structures; the projects help businesses create jobs to advance economic development.
State Grants
State government agencies also award grants to schools for building or renovating their facilities, including swimming pools. In California, public schools apply for grants to construct or renovate their water facilities through the Office of Public School Construction. Georgia public schools apply for funding through their Department of Education's Facility Services. School districts in Texas apply for grants through the Texas Education Agency. Schools in need of grants for swimming pools should check with their state's department of education about available assistance.