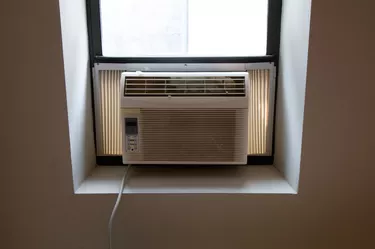 Texas residents can apply for grant funding to replace inefficient air conditioning systems. State agencies, municipal governments and private organizations provide funding for low-income residents, seniors, schools and residents to improve their energy conservation and lower their utility costs. The amount of grant funding and application deadlines vary, depending on the funding provider.
State Grants
The Texas Department of Housing & Community Affairs Comprehensive Energy Assistance Program provides funding to low-income households for the repair, retrofit and replacement of heating, ventilation and air conditioning systems. The purpose of the grant is to help recipients lower energy costs, meet their energy needs and educate the public about energy efficient products. CEAP is funded via the federal governments Low-Income Home Energy Assistance Program. As of the time of publication, applicants can apply for funding by contacting their local CEAP service provider, visiting the Help for Texans website (tdhca.state.tx.us/texans.htm), call 211 and ask for information on the program, or call (877) 399-8939.
Municipal Grants
The Air Conditioner Repair and Replacement Program sponsored by the city of Irving, Texas provides funding to residents with disabilities and senior citizens to replace or repair an inefficient air conditioner system. To apply, applicants must complete the program application form, and provide family income information and household demographics.
Grants for Schools
Schools in Texas located along the border with Mexico can apply for up to $50,000 in funding to replace air conditioning units with energy efficient models, via the Texas/Mexico Small Schools Grant Project. The project provides funding for schools to improve air quality, and enhance the quality of the classroom environment for students. To apply for funding, schools must contact the Texas State Energy Conservation Office and request grant information.
Private Grants
Reliant Energy in partnership with Dallas County Health and Human Services, offers the Home Weatherization Program for low-income residents. The $5,000 grant provides grant recipients with funds to make improvements in energy-efficiency, including servicing of air conditioning systems. As of the time of publication, Reliant Energy will provide 10 grants of $5,000.