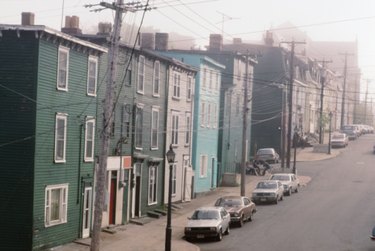 Owners of rental properties needing financial assistance for renovation projects can apply for grants. Funds cover repair and construction costs to improve the living conditions of the housing units. Owners can also use these grants to build new public housing units and other residential structures, such as apartment buildings, which rent to low-income families.
Main Street Grants
The U.S. Department of Housing and Urban Development, or HUD, sponsors the Main Street grants program. Communities with historical downtown districts, otherwise called Main Street, can apply for funds to renovate commercial offices and buildings into affordable rental units. A stipulation of the grant program is that the owners must maintain the traditional and historical character of the converted structures. Grants are available to communities with less than 100 physical public housing units and 50,000 residents.
Housing Preservation Grants
The U.S. Department of Agriculture, or USDA, funds a grant program for landlords and co-op members to repair homes occupied by low-income tenants. The Housing Preservation Grant program provides financial assistance to homeowners to make improvements to their homes as well. Applicants in communities of less than 20,000 residents are eligible to receive grant funds. The USDA disperses funds to state and local government agencies and nonprofit organizations. Once received, recipients must use the grants within 24 months.
Multi-family Housing Revitalization Demonstration Program
The USDA also sponsors the Multi-family Housing Revitalization Demonstration Program to provide affordable housing to low-income residents. Grants are used to revitalize and repair rental housing units in rural areas. Farm owners and operators can apply for grants to fix up their farm housing projects occupied by farm laborers. Recipients must agree to a 20-year Restrictive Use Covenant to ensure properties are used by low-income residents.
Weatherization Grants
The Department of Energy funds grants to weatherize homes and rentals owned by low-income homeowners to make them more energy-efficient. Weatherization projects include insulating walls, adding weather stripping to doors and replacing heating, cooling and electrical systems and windows. Weatherization services are provided at no cost to the homeowners.