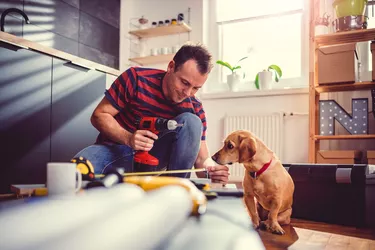 Fixing up an old house comes with its share of challenges, but the results are often worth the effort. One solution is to apply for home improvement government grants. The Province of Ontario, for example, has launched several programs designed to help its residents cover the cost of home renovation. Some programs are open to all homeowners, while others appeal to seniors or individuals with disabilities.
Designated Heritage Property Grant Program
The Designated Heritage Property Grant Program assists homeowners with the conservation and restoration of historic houses. Currently, it takes place in several cities and towns across Ontario, including Cambridge, Mississauga, Caledon and others. Eligible properties must be designated under the Ontario Heritage Act. The guidelines vary from one city to the next, but most municipalities have similar rules and eligibility criteria.
Caledon residents, for example, may receive up to 50 percent of the renovation cost (up to ​$4,000​). These funds can be used for the preservation and restoration of windows, doors, chimneys, porches, masonry, roofs and other structural or architectural elements. The grant does not cover the cost of alterations, renovations and other projects that focus on non-heritage attributes.
The City of Mississauga, by comparison, offers grants of ​$500​ to ​$25,000​, depending on the type of project. Homeowners who wish to repair or restore structural elements may receive up to ​$10,000​. Be prepared to submit a statement of the proposed scope of work, as well as feasibility studies, photographs and cost estimates. You must also contact a licensed architect, engineer or heritage consultant to help you plan things out.
Ontario Renovates Program
Canada's most populous province also offers home improvement government grants for low-income households. The Ontario Renovates program, for example, is available in several counties and cities, including Ottawa, Cornwall, Simcoe and Brockville – just to name a few. Candidates may request up to ​$10,000​ in the form of an interest-free forgivable loan, according to the United Counties of Leeds and Grenville. With this type of funding, borrowers are not required to pay off the loan when certain conditions are met.
Homeowners may use the funds to repair their heating, plumbing or electrical systems, doors, windows, roofs, vents and more. The money cannot be used for routine maintenance, painting, bathroom makeovers and other renovations for aesthetical purposes. Property owners may also request up to ​$5,000​ for accessibility repairs, such as fixing an old ramp. In this case, the funds are offered in the form of a grant.
Eligibility requirements vary among cities. The City of Ottawa, for example, only accepts seniors and homeowners with disabilities, but families with household members who meet these criteria may qualify, too. Eligible candidates must have an annual income of ​$36,075​ to ​$88,900​ per year, depending on the household size. Additionally, their property must be valued at no more than ​$476,197​. The United Counties of Leeds and Grenville, on the other hand, does not accept applicants living in a house worth over ​$225,000​.
Other Home Improvement Government Grants
Older homes are less energy-efficient than newer buildings. They also tend to have leaks and defects in plumbing fittings, which may result in water loss. Upgrading an old electrical, plumbing or heating system can run thousands of dollars. Considering these aspects, it makes sense to apply for a loan or grant to renovate your home.
One option is the Canada Greener Homes Grant program, a government-funded initiative. Its role is to help homeowners make energy-efficiency improvements and reduce their carbon footprint. Applicants are eligible for up to ​$5,000​ for improvements and upgrades, plus ​$600​ for energy efficiency evaluations.
The Canada Mortgage and Housing Corporation (CMHC) has a similar program in place, according to Great Northern Insulation. Qualifying applicants may receive up to 25 percent in refunds for making their homes more energy-efficient. Union Gas and Enbridge Gas customers can get up to ​$5,000​ in rebates for completing energy upgrades, such as basement or crawl space insulation.