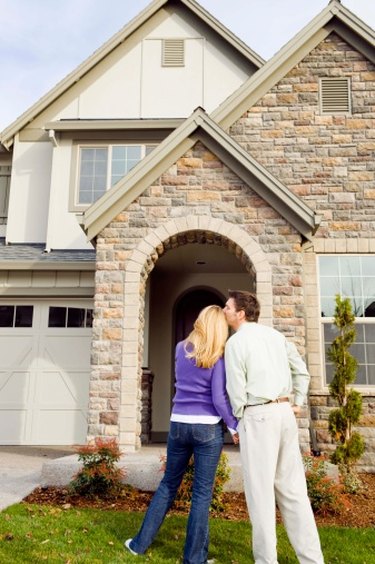 You may be eligible to receive several government grants to cover the costs of home improvement projects. Recipients can use grant funds to purchase equipment and supplies, as well as pay labor and administrative costs. These government programs provide grants to applicants who need financial assistance including low-income families and veterans with disabilities. Local communities needing funds to revitalize homes can apply for financial awards as well.
Main Street Grants
The Department of Housing and Urban Development, HUD, sponsors the Main Street grant program, which provides financial awards to areas to redevelop historical downtown districts into affordable housing units. Communities with less than 50,000 residents and 100 physical public housing units are eligible for grants. Grant money applies to renovating old business buildings for use as rental properties while maintaining the area's traditional character. Local units of government can apply for Main Street grants.
Housing Preservation Grants
If you own home or rental property in areas of less than 20,000 residents, you may apply for Housing Preservation grants funded by the U.S. Department of Agriculture. To qualify, you must be the owner, landlord or a co-op member of very-low or low-income homes. The income levels depend on your region's median income level and cost of living. Grant money applies to the rehabilitation or repair of units occupied by low-income individuals. Sponsors of these grants include nonprofit organizations, state agencies and local government units. You must use these awards within a two-year period.
VA Specially Adapted Housing for Veterans
If you're a veteran of the armed forces and have a disability, the Department of Veteran Affairs provides grants to help you finance home modifications and renovations. You have three grants available to you: Specially Adapted Housing, or SAH, Special Home Adaptions, or SHA, and Home Improvement and Special Alterations, or HISA. Both SAH and SHA grants are worth up to $50,000 and $10,000, respectively, and are available to you if you have a service-related disability. HISA grants are worth up to $4,100 if you have a service-related disability and $1,200 if you have a non service-related disability.
Weatherization Grants
You can apply to the Department of Energy for grants to weatherize your home. Low-income families are eligible for these grants that cover weatherization projects averaging $6,500 per home. Weatherizing your home makes it energy-efficient, which saves you money on utilities. Some of the approved projects include insulating walls and ceilings, adding weather stripping to doors, replacing windows and appliances and improving heating, cooling and electrical systems.
Rural Repair and Rehabilitation Grants
Rural repair and rehabilitation grants apply only to homeowners over the age of 62 years old with a very low-income. Again, income requirements depend on your region's median income level and cost of living. The grants of up to $7,500 are for the improvement or modernization of individual dwellings to remove health and safety hazards. Grant funds are only applicable to repairs and improvements for health-related safety hazards.