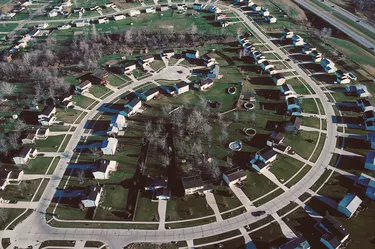 A homeowner association is the governing body for a condominium or planned-unit development, with homeowners living in such a community voting on a president, treasurer, secretary and other officers who run the HOA and are responsible for collecting dues. These types of associations have several resources with which to fund neighborhood improvement projects, including grant programs that assist the HOA and individual homeowners by paying for expenses within the community.
County Grants
The Orange County Neighborhood Services Division in Florida provides funding for the Renew Program. HOAs can apply for a grant between $1,000 and $25,000 to make physical improvements to their communities. Typical improvements include upgrades to landscaping and irrigation, creating a community garden, or implementing speed bumps or traffic islands. To apply for a grant, the HOA must have its board of directors vote on and approve the grant application. There must also be 10 dedicated volunteers. Summit County in Colorado offers the Hazardous Fuels Reduction Grant to local HOAs to help pay for fire-prevention measures in their communities. Fire prevention measures include removal of dead trees and slash projects.
Private Grant Programs
Private companies and foundations also offer grants to help HOAs pay for expenses. The Pacific West Association of Realtors' PWR Charity Foundation in California provides grants up to $3,000 to help first-time homebuyers pay their HOA dues. On a monthly basis, $250 is paid directly to the HOA for up to one year. Quadrant Homes, a real-estate development company in Bellevue, Washington, provides $2,000 to HOAs to go toward community improvement goals. The Sustainability Challenge Grant is awarded to communities that devise innovative ways to work together and create positive sustainable change.
Weatherization Assistance Program
The U.S. Department of Housing and Urban Development has formed a partnership with the Department of Energy to fund the Weatherization Assistance Program. Weatherization services helps to lower the cost of utility bills. Low-income condominium owners are eligible to apply for this program. Typical weatherization measures include installing insulation or upgrading appliances to EnergyStar appliances. To qualify for assistance, the condominium owner's total household income cannot exceed 200 percent of the federal poverty level. The average savings per household is $413 annually.
City Grants
The city of Chandler in Arizona provides funding for the Homeowner's Association Matching Grant Program. Registered HOAs within the city can apply for a grant up to $5,000 once every five years. The grant can go toward beautification, recreation, security or cultural activities within the community. The City of DeSoto in Texas also has a Neighborhood Grant Program that HOAs are eligible to apply for. The primary objective of the program is to improve neighborhood associations, improve the appearance of city neighborhoods and strengthen the relationship between HOAs and the city government. Grants up to $500 are awarded for landscaping projects, seasonal decorations or safety-related equipment.