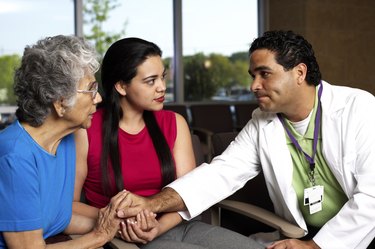 In addition to the unimaginable emotional impact, a child's death may also affect a family's finances, especially if the family paid medical expenses to treat a long-term illness. When a surviving sibling goes to college, the family may no longer have the savings to pay for tuition and educational expenses. Whether a sibling died due to illness, accident or violent crime, the student may qualify for financial support from a variety of scholarship programs.
Local Programs
Some scholarships assist only students from a particular community or state without criteria regarding the causes of their siblings' deaths. The JoJo D'Occhio Foundation, for example, helps students who plan to attend the University of Delaware. To qualify, the applicant must be younger than 22 years old and the surviving sibling of a deceased individual. Students may find information regarding local and state-specific scholarships through the financial aid offices of the colleges where they plan to enroll.
Cancer
Many organizations support the family members of cancer patients who have passed away. Scholarship programs seek to help families with college expenses when they may have already drained their financial resources to pay for cancer treatments and medical care. The SuperSibs! Scholarship Program provides tuition scholarships to the siblings of cancer patients; applicants must be able to explain their families' experiences with cancer and the impact of those experiences on their goals for the future. Similarly, Project Hope and Joy helps bereaved siblings through its Hope Scholarship Fund. Some cancer-related scholarships focus on helping students from a particular area or state. For example, the Children's Cancer Community grants memorial scholarships to the siblings of children who have passed away from cancer; eligible applicants must come from specified counties in Northern California.
Violent Crime
Some scholarship programs focus on helping individuals who have experienced deaths in their families due to violent crimes. The Peyton Tuthill Foundation, for example, maintains a scholarship program for the family survivors of homicide victims. The foundation's scholarships may go to several family members who qualify, including a spouse, child or sibling of the homicide victim. A student who has lost a sibling due to violent crime may wish to contact a victim-advocacy organization, district attorney's office or police department to identify local resources.
9/11 Programs
Families affected by the 9/11 attacks on Sept. 11, 2001 may qualify for scholarship assistance through the Families of Freedom Scholarship Fund. The fund seeks to help families who need financial assistance to pay for post-secondary education opportunities. Scholarship recipients must attend accredited U.S. institutions, including two-year and four-year colleges, vocational training or trade schools. While the fund generally provides support to the spouses, domestic partners and dependents of 9/11 victims, siblings of 9/11 victims may also have eligibility for the scholarships. To qualify, an applicant must be able to show financial dependence on a sibling who died as a result of the 9/11 attacks.