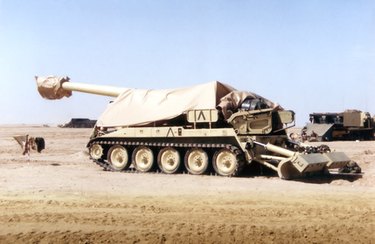 United States involvement in the Persian Gulf War, also known as Operation Desert Storm, began in August 1990 and ended the following March. According to the United States Department of Veterans Affairs (VA), 697,000 servicemen and women served in the conflict, and all U.S. troops serving in the ground war were back home by June, 1991. Children of these veterans may be eligible for certain benefits, including those relating to health and so-called Gulf War Syndrome.
Free Medical Examinations
According to the VA, roughly one-quarter of the returning Gulf War veterans have become sick, leading the agency to research whether they were exposed to hazardous substances during their service in the Gulf. Also know as "Persian Gulf Syndrome," symptoms include rashes, fatigue, loss of memory, gastrointestinal ailments and pain in joints and muscles. There have been reports of higher levels of birth defects in the children of Gulf War veterans. Children of Gulf War veterans may receive free medical examinations from the VA if they experience certain symptoms and their parents are willing to have the information included in the VA's Gulf War Registry Program.
Death Benefits
Children of deceased Gulf War veterans may receive a veterans death pension if their families meet certain income criteria. Low-income surviving spouses and dependent, unmarried children are eligible, with the yearly permissible income amount set by law and number of qualified dependents. Income from Supplemental Social Security, welfare or some monies earned by dependent children is not counted toward the annual income limitation. According to the VA website, the veterans death pension pays the difference between yearly countable income and the annual income limit describing the applicant's situation, such as number of dependents.
Educational Benefits
Under the VA's Survivors' and Dependents' Educational Assistance Program (DEA), children of deceased, missing in action or disabled Gulf War veterans may receive benefits for education or job training. Children must be between the ages of 18 and 26 to qualify for DEA benefits. Marital status does not affect the benefit, but those on active duty in the military cannot receive DEA funds while in the service. After leaving the service, such children of veterans must be honorably discharged and under age 31 for DEA eligibility. Depending on the state in which they live, children of Gulf War veterans may be eligible for additional educational benefits.