For those who have served their country at some point, the government offers several lucrative perks. One of those perks is the G.I. Bill, which helps cover education costs for military service members. In some cases, those benefits can be transferred to a spouse or children, but what if the desired beneficiary is a grandchild? Although many government grants don't extend to grandchildren, there are programs designed to assist the grandchildren of veterans. Here are some grants that could offset the cost of college tuition and associated fees for your grandchildren.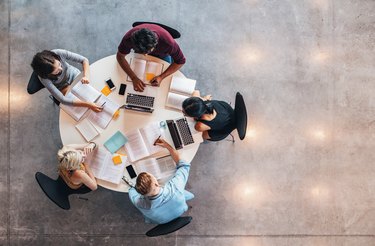 AMVETS
American Veterans (AMVETS) offers two scholarships for the children and grandchildren of veterans, active duty military and National Guard/Reserves members. The grandchild must apply as a high school senior. The AMVETS Scholarship awards $1,000 annually for four years to six recipients The JROTC Scholarship issues one payment of $1,000 to JROTC members. There is just one winner of that scholarship.
Second Marine Division Association
Available to unmarried children and grandchildren of those who have served in the Second Marine Division or attached unit, this scholarship issues up to $1,200 toward the cost of an undergraduate degree. The student must apply each year for grant renewal.
EOD Warrior Foundation
Grandchildren of graduates of the Naval School Explosive Ordnance Disposal (NAVSCOLEOD) may be eligible for a scholarship through the EOD Warrior Foundation. Award amounts vary depending on budget and the number of applicants in a given year. Applicants are graded on a variety of criteria, including grade-point average (GPA) and community involvement, and once awarded, recipients must keep at least a 3.0 GPA.
American Legion Auxiliary
Grandchildren are eligible for this scholarship from the American Legion, as long as a grandparent participated in a military event that qualified for membership in the Legion. Fifteen $5,000 scholarships are awarded each year, with priority given to students who have excellent academic records and are active in their communities.
Veterans of Foreign Wars Voice of Democracy
If your grandchild has a way with words, the annual Voice of Democracy scholarship could be a great option. Each year, the VFW awards $2.1 million in educational scholarships to high school students, including a grand prize of $30,000. To be eligible, the applicant must record a patriotic-themed essay.
College tuition can be extremely expensive, but grants and scholarships are available to help. If you're a veteran or active-duty military, benefits can extend to the next generation as a thank you for your service. It's important to check with local organizations to find out if there are any grants or scholarships available that might be less competitive.