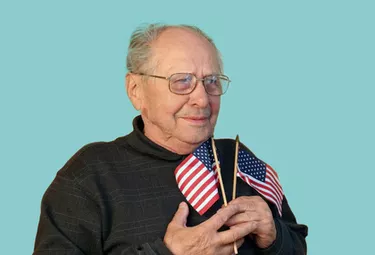 Being a veteran with special financial or medical needs is challenging enough. Add to this the fact that you are over 65 years old and fighting to get benefits and grants in a volatile economic climate already stretched thin by a long war. There is hope, but when searching blindly you're almost certain to be bogged down by challenging bureaucratic red tape. This narrowed down list may offer some expedient assistance.
Veterans Nursing Home Care Grant
This grant was created to help eligible veterans who are not acutely ill or in need of a hospital stay, but who require nursing care, related medical services, and other personal and social needs in a caring environment. Eligible veterans include those with a service-connected disability, veterans discharged due to disability, any former POW, a Vietnam veteran who was exposed to Agent Orange, any veteran exposed to nuclear toxins during the American occupation of Hiroshima and Nagasaki and finally, any World War I veteran. Also eligible are any non-service-connected veterans who are in receipt of VA pensions. There are other stipulations as well. Contact the Department of Veterans Affairs or go to your local VA office to get an application and more information.
Chief Consultant, Geriatrics and Extended Strategic Health Group (114) Department of Veterans Affairs 810 Vermont Avenue, NW Washington, DC 20420 (202) 273-8540 va.gov.
The Disabled American Veterans Charitable Service Trust
The Disabled American Veterans Charitable Service Trust is helping programs in many states including Missouri, Massachusetts, Vermont, Illinois and Colorado to care for aging and ill veterans who are patients in nursing homes. This grant provides much needed financial support. DAV's Charitable Service Trust states as their mission: to help sick and elderly veterans who honorably served our nation. They typically do not give grants directly to individuals, but they do work with local agencies that identify these individuals. So the first step would be to contact them as to which agency they may work with in your area, so that you can be put on the list of folks in need.
DAV National Headquarters 3725 Alexandria Pike Cold Spring, KY 41076 (877) 426-2838 cst.dav.org
VA Aid & Attendance Pension Benefit Program
The Veterans Administration's Aid and Attendance (A&A) Pension provides benefits for veterans and surviving spouses who require constant assistance with tasks such as feeding themselves, bathing, dressing and undressing and other basic needs. It also includes blind veterans, those in assisted living facilities and patients in nursing homes because of either mental or physical disabilities. To qualify, you must have verification from a physician that you cannot perform these basic daily tasks. You do not need to be a patient who needs assistance with all of these tasks, however. Veteran Aid is not connected to any government agency, but you can download the necessary forms, read about eligibility and seek help to apply through this foundation at Veteranaid.org. Mail your application to your local Veterans Administration chapter.
Chief Consultant, Geriatrics and Extended Strategic Health Group (114) Department of Veterans Affairs 810 Vermont Avenue, NW Washington, DC 20420 (202) 273-8540 veteranaid.org/program.php