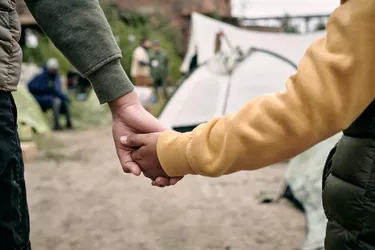 Asylees are people who are seeking or have been granted political asylum in a country where they are not a citizen. The United States is a popular destination for asylees, and there are many scholarships for asylum seekers in the U.S. These scholarships for asylees help individuals and victims of political oppression build a new life in America.
Many scholarships and grants are available to asylum seekers in the United States. Most of these are for people who have already been granted asylum and currently live in the United States; those individuals who have not yet been fully granted asylum may have more difficulty securing these sorts of scholarships.
One of the most popular and well-known scholarship programs is TheDream.US National Scholarship Program. It covers tuition and fees for eligible applicants and may include stipends for books, transportation and other expenses. TheDream.US provides many additional details about this scholarship, who will be eligible for the scholarship, what an individual needs to apply and how these scholarships work in the long term.
Many nonprofit, private agencies in the United States also provide scholarships to asylum seekers and other immigrants. They include the Gates Millennium Scholars Program, the Students of Salaam Immigrant Student Scholarship and the ASA Minority Fellowship Program. Sometimes, specific colleges will provide scholarships for asylees too. For example, Columbia Global Centers offers the Columbia University Scholarship for Displaced Students.
Scholarships for Specific Nationalities and Groups
Many scholarships are available for specific nationalities and groups of asylum seekers. These can help offset the cost of college in the United States, including tuition, fees, room and board and transportation expenses. There are scholarships for students of African descent; Asian or southeast Asian descent; and Arab, Filipino, Palestinian and Syrian origins. Aid is also available for students from Myanmar, Latin or Hispanic backgrounds and from Iran.
Other types of scholarships are available based on gender, such as the Red Thread Fellowship Award for immigrant women. Several organizations help fund college for new Americans or first-generation immigrants as well as programs for migrant families and refugees. In addition, most asylum seekers should be eligible for many other scholarships and grants. A few may require U.S. citizenship but most should not. For example, if you're a woman, look for scholarships from female professional organizations for the field you want to study.
Finally, states also have individual scholarship and grant programs available to immigrants, refugees, asylum seekers and the general population of students. Don't forget to determine whether you qualify for reduced in-state tuition or other residency or income-based programs.
Can Asylees Get Student Loans?
Most asylees who have been granted asylum status are eligible for student loans. There is not necessarily more scrutiny on their application than for American citizens. You might assume that it would be harder for asylum seekers to apply for student loans since they don't have American credit, an education background or residential longevity. However, none of these qualifications matter for getting approved for student loans. Student loan applications don't even require a credit check, which can be very helpful for asylees.
If you're not a native or fluent English speaker, you may want to consider having an expert translator available to help you with the application process. You must understand the agreement and all of its clauses before you sign and accept the loan; that way, you can ensure that you don't end up going in over your head.
Finally, don't forget about other public assistance programs that can help you support yourself through college. If you're an asylee especially, you will want to work with your social worker to access relevant programs to help you access food, housing, counseling and more.