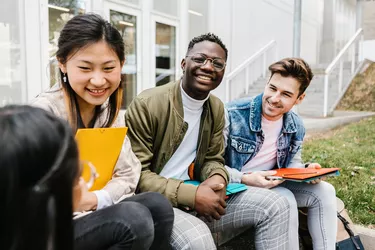 Minority scholarships are available through private foundations and post-secondary institutions. Luckily, minority scholarships aren't limited to one racial or ethnic group. Minority designation is given to a wide range of students spanning cultures from around the globe.
What is a Minority Scholarship?
Minority scholarships exist to increase diversity on college campuses. Diverse college campuses are a representation of the world at large, which can help prepare all students for life after college. Minority scholarships attract students who would not otherwise apply to a college due to financial reasons or the location of the college.
For certain minority scholarships, women can be considered minorities based on gender inequalities. Even if a college has an equal number of men and women, scholarships may be offered specifically to women to encourage them to pursue fields of study that have little female participation. Scholarships for women of all ages exist to level the playing field between men and women in business. For example, the Jane M. Klausman Scholarship awards women majoring in business over the age of 25.
Black and Hispanic minorities are amongst the largest in the United States. The United Negro College Fund and Hispanic Scholarship Fund offer scholarships for students through a wide range of corporations and private organizations. To qualify for the Hispanic Scholarship Fund, you must be from Spain, Mexico, Guatemala, Honduras, El Salvador, Costa Rica, Nicaragua, Panama, Colombia, Venezuela, Ecuador, Peru, Argentina, Chile, Bolivia, Uruguay, Paraguay, Cuba, Puerto Rico or the Dominican Republic. Students from Brazil are also considered Hispanic. African Americans encompass all American citizens of African descent who are not Hispanic.
Scholarships for Native Americans and Asian Americans are also available. However, in order to qualify for a Native American scholarship, you must have a tribal certificate or other proof of Native American lineage. Gay, lesbian, bisexual, and transgendered students are also offered scholarships as minorities from supporting organizations. In addition, many non-American students, especially those who speak multiple languages, are considered minorities and may be offered specific types of aid to encourage them to attend a college.
Scholarships are a privilege, not a right. Extending scholarships to minorities is more than an act of goodwill for most post-secondary schools. Minority scholarships often require academic prowess in addition to being a member of an ethnic group. Scholarships without strict GPA requirements might ask instead that students have documented financial need or demonstrated leadership ability.