If you've just escaped from an abusive situation, financial insecurity may be one of your biggest concerns. Help is available from numerous sources, including domestic violence shelters, state and local programs, federal programs and private organizations. Each program has different requirements to qualify and apply for aid.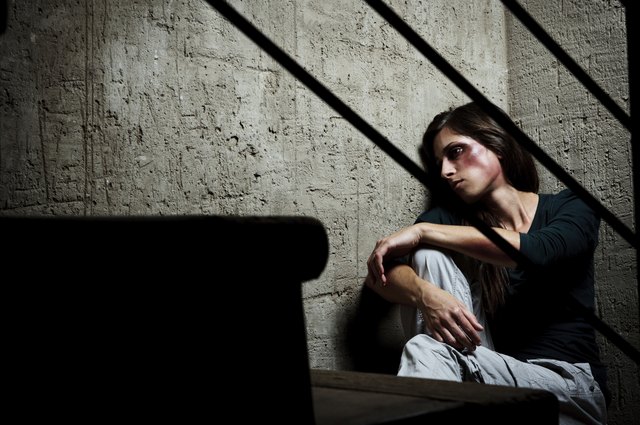 credit: warrengoldswain/iStock/Getty Images
Domestic Violence Shelters
Women can stay at domestic violence shelters after escaping from an abusive relationship. Many such shelters provide both direct and indirect financial help. They may be able to provide you with a financial assistance grant, but they can also help out indirectly by providing child care, food and shelter while you decide on your next steps. The shelter also may have its own employment or educational programs, as well as counseling and legal services.
Government Programs
There are community-based domestic violence programs in every state in the country. The National Domestic Violence Hotline can help you find programs in your local area. You can reach the organization at 800-799-7233.
Some state governments have their own domestic violence assistance programs. For example, Oregon's Temporary Assistance for Domestic Violence Survivors program provides financial support on a case by case basis to help with anything from moving costs to the expense of buying new locks. Check with your state government to see if any similar programs are available to you.
The United States Department of Justice has an Office on Violence Against Women to administer the 24 domestic violence grant programs it operates. Contact organizations in your local area to benefit from these programs, as individuals generally are not eligible to apply.
Crime Victim Compensation
State crime victim compensation funds can provide significant financial help to victims of crime. Approximately one-third of their grants are given to domestic violence survivors according to the National Association of Crime Victim Compensation Boards. These grants are subject to several conditions, including cooperation with police and prosecutors. However, the compensation boards sometimes make exceptions depending on the situation. Check with your state crime victim compensation board to see which requirements apply to you.
Other Programs
A number of nonprofit agencies and private organizations also provide financial assistance to domestic violence survivors. The National Network to End Domestic Violence Economic Justice Project offers financial literacy training. The Allstate Foundation offers a financial skills program. The R.O.S.E., or Regaining One's Self-Esteem Fund helps women who need reconstructive medical or dental procedures as a result of domestic violence. Web of Benefit offers direct Self-Sufficiency Grants to women who need financial help because of domestic violence.