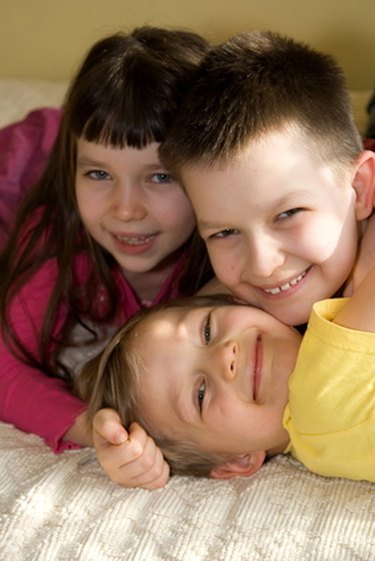 Juvenile arthritis is one of the most common childhood diseases. As of 2007, nearly 294,000 children were affected by some form of juvenile arthritis and the number continues to rise, according to the Arthritis Foundation. An autoimmune disease, juvenile arthritis can be managed through medication, therapy and good health habits and kids with juvenile arthritis can go on to live normal lives. Children with arthritis have access to several scholarships to attend college and also to attend the Juvenile Arthritis Annual Conference.
Winterhoff Collegiate Scholarship
The Winterhoff Collegiate Scholarship was established by Walter and Kay Winterhoff to honor the work of the Arthritis Foundation and provide college scholarship money to students in the southwest region of the U.S. Eligible students must suffer from some form of arthritis and submit a statement from their physician vouching for the student's condition. Applicants must be enrolled full time as an undergraduate or graduate student at Arizona State University, Northern Arizona University or the University of Arizona. The scholarship awards $7,500 per student winner and the scholarship may be renewed for up to three years.
Northern and Southern New England Arthritis Foundation Scholarship
Students in the New England area can apply for the Arthritis Foundation Scholarship sponsored by the Northern and Southern New England Chapter. Students must reside in Connecticut, Massachusetts, Maine, New Hampshire, Rhode Island or Vermont and must be a graduating high school senior or current college student. The number of one-time $1,000 scholarships given out each year varies depending on funding the chapter receives and previous winners may not apply again. Applicants are asked to compose an essay for the contest describing how arthritis has affected their educational goals.
UCB RA Family Scholarship Program
Funded by UCB, a drugmaker that concentrates on developing treatments for major diseases including arthritis, the UCB RA Family Scholarship Program distributes up to 30 scholarships annually. The $10,000 scholarships go to undergrad, graduate and vocational students dealing with rheumatoid arthritis or to the immediate family member of a person with RA. Applicants must submit a one to two-page essay describing how they deal with arthritis and how the scholarship money would benefit them in their goals.
Juvenile Arthritis Conference Scholarships
Held annually, the Juvenile Arthritis Conference brings together children with arthritis for a three-day event devoted to education about juvenile arthritis and other rheumatoid conditions. Costs to attend the conference can be covered by conference scholarships offered by several local Arthritis Foundation chapters. The North Central Chapter provides full family scholarships to attend the conference and in return that family agrees to serve as a juvenile arthritis ambassador for that region.