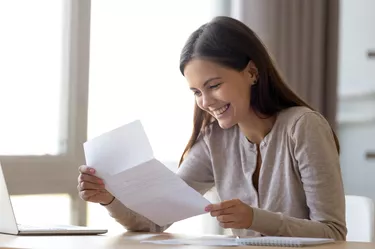 Full-tuition scholarships have been called the "holy grail" of college scholarships – elusive and highly sought-after but difficult to attain. If you're ready to begin a scholarship search, you may be wondering what to call a full scholarship. Consider "manna from heaven" – unexpected assistance that arrives when it's needed most. Chances are, either award could cause you to drop to your knees considering the rising costs of a college education, which are anything but heavenly.
What's a Full Scholarship?
A full-tuition scholarship is exactly what you think it would be: A financial award that covers the cost of tuition, or the money that entitles you to register for and take a seat in a class, ready to absorb all the information to come. These scholarships usually don't cover fees, though some might, Road2College says.
Scholarships.com refers to full-tuition scholarships as the holy grail of scholarship money because they can cover "the majority" of the cost of a four-year college education. You may beg to differ when you learn the full scholarship meaning, also commonly known as a full-ride scholarship. It usually covers most of the costs of going to college, including not just tuition, but also room and board (in a dormitory) or housing (such as in an apartment) as well as fees, books, supplies and, perhaps, meals and even a personal stipend. At many private schools, the value of a full scholarship can reach $200,000, PrepScholar says.
Understandably, the recipients of full-ride scholarships often feel like beneficiaries of manna from heaven, especially compared to their peers. Graduates of the class of 2021 shouldered an average student loan debt of nearly $40,000, with their monthly loan payment hovering near $400, according to The College Investor.
Student debt has been rising because, with the exception of the last academic year, tuition tends to increase consistently, too. The average annual cost of tuition and fees for students attending in-state colleges and universities was $9,687 in 2020-21, U.S. News & World Report says. Students who attended out-of-state schools paid an average of $21,184 while those who went to private schools paid just more than $35,000. It may be wise to sit down before you remind yourself that these numbers must be multiplied by four (for four years), unless you opt to save money by attending a two-year community college first.
As you might expect, full scholarships are neither easy to find nor easy to get. Some college admissions people say this is the way it should be, especially when a six-figure private college education may be on the line. Meanwhile, recipients often say the scholarships aren't necessarily easy to keep; academic scholarships often require students to maintain a certain grade-point average for all four years or risk losing their full ride.
Check Scholarship Websites
Only you can decide if the balancing act may tilt in your favor of winning a full scholarship, especially if you have: Good grades and SAT or ACT scores, volunteer experience or community service accomplishments and the ability to write a compelling essay about your future. You may also be expected to meet other discerning criteria. Then it may be worth your time and energy to research full scholarship opportunities at:
Whether you regard a full scholarship as the holy grail, manna or the brass ring, financial aid experts say it's wise to take the long view on scholarship money. In other words, a $1,000 or $2,500 award may not seem like much now, but it can help defray the cost of something during college, when money tends to be tight. And, perhaps combined with other awards of the same size, it can add up and keep your out-of-pocket college costs in check – while resulting in one less check you may have to write to pay off your student loan debt.