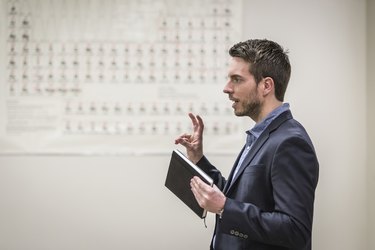 A professor of neuroscience conducts research and teaches science courses that deal with the brain and neural system and therefore is in a position to make a significant impact on the world. How much does a neuroscience professor make? While it isn't the best-paying job you can get with a neuroscience Ph.D., you can make a comfortable living. Before you commit to the lengthy education and training necessary, it pays to read about the salary of a neuroscientist, the highest-paying neuroscience careers and how to become a professor of neuroscience.
How Much Does a Neuroscience Professor Make?
According to the U.S. Bureau of Labor Statistics, postsecondary teachers (like neuroscience professors) earned a median salary of ​$79,640​ in 2021. Neuroscientists typically make more than that, though. Professors in biological sciences earn a median income of ​$81,440​.
The most important determinant of salary is your rank as a professor. Universities set their own requirements for promotion, which often include years of teaching. A professors may rise from assistant professor to associate professor to full professor, raising the neuroscience average salary.
Neuroscience professors can supplement their income in other ways. They may serve as the chair of their department in the university. While it comes with additional responsibilities, the pay and prestige are worth it. They may also apply for grants or other awards to help fund their research. Especially early in their career, neuroscience professors might teach courses in the summer.
Neuroscience Ph.D. Salary in Other Professions
What are the highest-paying neuroscience careers? A neuroscience salary is highest with a medical degree rather than a Ph.D. These careers include optometrist, hospitalist or neurologist. A Ph.D. in neuroscience salary is highest as a machine learning engineer helping with artificial intelligence; they make ​$149,549​ per year. Of course, this salary will depend on a variety of factors, including geographic location and the economic climate at the time you get started.
Besides professor, other high-paying careers in neuroscience are biostatistician, speech-language pathologist, research scientist and psychologist. Careers that pay less than a professor of neuroscience salary are usually in epidemiology.
How to Become a Professor of Neuroscience
The first step to becoming a professor of neuroscience is to earn an undergraduate degree in neuroscience or a related field, such as biology. You'll need to continue your education after completing your undergraduate degree, but you have two choices. You can either earn a Master of Science degree in neuroscience or go to medical school. You may need to take the MCAT (Medical College Aptitude Test), the GRE (Graduate Record Examination) or both tests. If you go the academic route by pursuing a Master of Science degree, you'll spend a lot of time in the lab studying neuroscience during your two years of study.
You'll need to continue past the master's to a doctoral program, which takes several more years. To earn that degree, you'll have to conduct original research and publish the results. Your research will have to make a contribution to the field. Then, you can apply for jobs as an assistant professor at a college or university.
If you decide to go to medical school, you'll become a neurologist. Medical school lasts four years, and then you'll spend three years as an intern and resident learning neurology. Most people who pursue this path practice as doctors, but M.D.s can also work as professors. Alternatively, they can look for jobs at medical schools or practice at a teaching hospital.