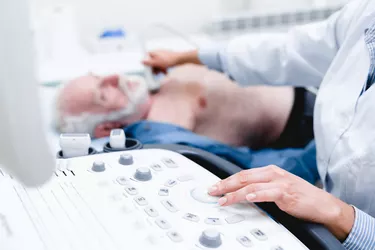 Making images of the heart, blood vessels, breasts, abdomen and other body areas, ultrasound technicians help doctors get the information needed to diagnose patients who may have abnormalities. This important medical role requires completing ultrasound technician schooling to learn to use the imaging equipment properly and make reliable images. Usually, these professionals will major in medical sonography and earn a certification. Read on to learn more about ultrasound technician degree options and other job requirements.
Ultrasound Technician Degree Requirements
According to the U.S. Bureau of Labor Statistics, ultrasound technician requirements usually involve an associate degree in medical sonography or diagnostic imaging, but you can also pursue a more focused ultrasound technician major like cardiac sonography. While earning an associate degree provides the most thorough education and is often helpful for getting certified, it's also possible to qualify for a job with a sonography certificate or to continue your education with a bachelor's in this field.
AIMS Education mentions that both sonography certificate and associate degree programs tend to take about ​two years​, but certificate programs may be a quicker option if you already have completed medical coursework in an area like nurse assisting. In any case, you'll find that the curriculum covers medical terminology, sonography principles, imaging, sonographic instrumentation and various specializations like obstetrics, breast imaging and abdominal sonography. Associate degree programs feature general education topics like psychology, English and physics too.
Since this is a hands-on role, ultrasound technician degree and certificate programs include labs throughout where you get to learn about and work with the equipment you'll use on the job. The last part of the program involves a practicum that requires several months of supervised sonography work experience and prepares you well for landing a job after you graduate.
Ultrasound Technician Certification and Licensure
While some companies may hire you just with your ultrasound technician degree or certificate, the BLS notes that many want you to be certified. Several organizations offer ultrasound technician certifications, but one of the most common is the American Registry for Diagnostic Medical Sonographers. Further, Oregon, New Hampshire, North Dakota and New Mexico are the handful of states mandating licensure for these professionals, and certification helps you meet those requirements too.
The ARDMS offers both general and specialized ultrasound technician certification options that let you further focus on a particular body part or age group in addition to taking a general exam in sonography principles and instrumentation. For example, the Registered Diagnostic Medical Sonographer credential allows for pediatric, abdomen, obstetrics, breast and fetal echocardiography specialties. On the other hand, you could pursue the Registered Diagnostic Cardiac Sonographer credential and focus on adult, pediatric or fetal echocardiography.
Any ultrasound technician certification will have prerequisites that may require both education and experience. However, completing an accredited diagnostic sonography degree can offer a direct path to taking the ARDMS exams. If you had a degree in some other field, you'd need to show around a year of experience as an ultrasound technician.
Ultrasound Technician Outlook and Salary
Going through all the ultrasound technician requirements to get your education and certification can pay off when it comes to job prospects and salary potential.
Based on BLS projections, diagnostic medical sonography jobs will experience a ​17 percent​ increase through 2029, compared to just ​4 percent​ for occupations as a whole. The increased need for medical testing will continue to create ultrasound technician jobs, and building onto your skills with additional specializations can offer more career benefits.
Although this career requires just a couple of years of training, you could earn the competitive ​$75,780​ average salary the BLS reported in 2019. Some of the highest-paid sonographers saw incomes over ​$102,060​. If you're wondering about the work settings that offer higher pay, consider outpatient care centers, specialty hospitals and general hospitals over medical labs and doctors' offices.