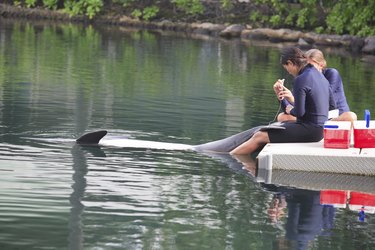 A marine veterinarian, also called an aquatic animal vet, treats captive marine animals, surgically and medicinally treating diseases and injuries they contract, monitoring their welfare and providing immunization services. She may also undertake research concerning marine animals in the wild. A marine veterinarian undergoes the same education and training as all other veterinarians and her salary is comparable with others in the field.
Average Salary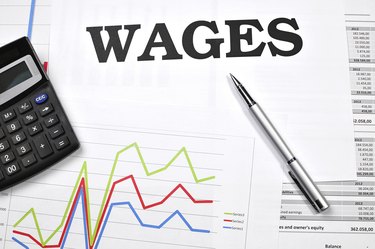 In May 2009 the U.S. Bureau of Labor Statistics surveyed 54,130 professionals working as veterinarians, including marine animal specialists, across America. It concluded that the mean yearly salary for the occupation was $90,110. This means that on average a marine veterinarian will take home $7,509 each month and earn $43.32 an hour. If she is in the top bracket of earners for the profession -- the highest-earning 10 percent -- she will receive an average of $142,910. If she is in the bottom 10 percent of earners, she will earn just $47,670.
Salary by Employer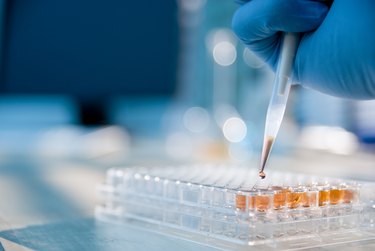 The data compiled by the Bureau of Labor Statistics in 2009 puts medical and diagnostic laboratories at the top of the list when it comes to wage levels for veterinarians. This sector of the industry pays an average of $114,590 per year. Scientific research and development services are almost as lucrative -- $97,620 -- while state government agencies pay a mean salary of $88,820. In contrast, federal government agencies pay $84,200 while marine veterinarians conducting research and teaching in colleges, universities or professional schools are likely to receive $72,350.
Salary by Geography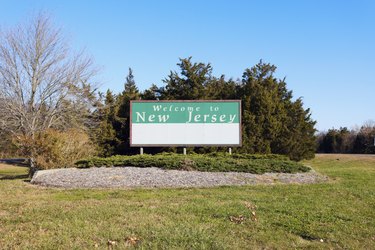 According to the Bureau of Labor Statistics, the most lucrative states for a marine veterinarian to practice are New Jersey and Connecticut, which pay average annual salaries of $117,170 and $116,150, respectively. California and South Carolina pay similar high levels of salary -- $99,940 and $99,630, respectively -- while Wisconsin and Colorado also have comparable wage levels, but significantly lower -- $74,680 and $74,670. Idaho is below even that, averaging just $73,760. On a smaller scale, the Miami/Miami Beach/Kendall district of Florida is listed as the highest-paying metropolitan area at $162,650, followed by Newark/Union in New Jersey at $150,230.
Outlook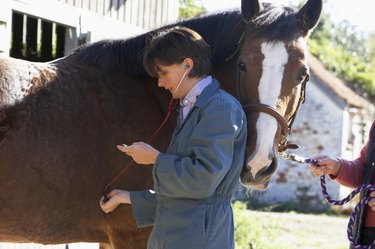 The Bureau of Labor Statistics predicts that demand for veterinarians of all kinds, including marine animal specialists, will increase by as much as 33 percent from 2008 to 2018. This is considerably faster than the growth rate expected nationally for all occupations, estimates for which top out at 13 percent. Given that the BLS also reports that there will be more vacancies than qualified candidates to fill them, marine veterinarians, alongside their animal treatment counterparts, should continue to receive excellent salary packages.