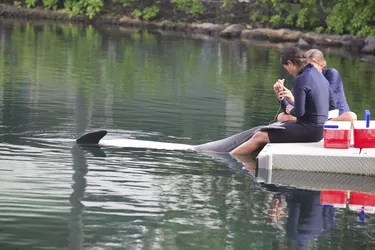 If you love animals, becoming a veterinarian might be the ideal job for you. A marine veterinarian specializes in treating diseases in marine, or water, animals and keeping them healthy. Most work for aquariums, zoos or nature preserves. The average vet salary is relatively high, and marine veterinarians fall within this standard range. Learn the average salary for a veterinarian and how to become an aquatic veterinarian.
Average Salary of a Veterinarian or Marine Veterinarian
How much does a veterinarian make? According to the U.S. Bureau of Labor Statistics (BLS), in 2021, the average salary for veterinarians was ​$100,370​. Marine veterinarians are a specialty subtype of veterinarians and often follow different tracks throughout their education and training. Their typical salaries are close to those of all other veterinarians.
Veterinarians represent a greater proportion of the workforce in Ohio than in any other state. However, they earn the highest annual mean wage in New York (​$129,210​) and California (​$126,690​).
Since many marine veterinarians work in aquariums or zoos, it's also helpful to consider the average salary of zoologists and wildlife biologists. In 2021, they earned about ​$65,000​ per year. However, not everyone in this category has a doctoral degree like veterinarians do, and they often make less.
How to Become a Marine Veterinarian
Veterinarians of all kinds must complete a lot of years of school. The first step in this career process is to complete a bachelor's degree. You should major in biology or something more specific, such as zoology, marine biology or animal science. Depending on your grades, you may be able to get a scholarship to help with your studies.
Next, you'll need to earn your DVM, or doctor of veterinary medicine, by attending vet school. Openings in veterinary schools are limited, and admission is very selective, so you'll need to distinguish yourself throughout college. Get excellent grades and work closely with professors for glowing recommendations. Try to obtain internships and summer jobs in the field to make your application stand out.
Toward the end of your doctoral program, you'll need to pick a specialty, at which time you'll choose an area having to do with marine medicine. This may include zoology or aquaculture medicine if marine biology or veterinary medicine isn't available. While your last months of veterinary school will begin to prepare you to work with marine life, you'll need more training, which you'll get through your internship and residency programs.
While completing your education, you'll need to pass examinations. These include state licensing boards and the North American Veterinary Licensing Exam, a six-hour, 360-question multiple-choice test on all animal species. Although it isn't always required for all positions, you might also want to earn certifications in your area of specialty. Several organizations provide these relating to marine veterinary medicine, including the American College of Zoological Medicine or even the American Fisheries Association.
Finally, look for a job. The BLS expects more than ​14,000​ jobs for veterinarians to be added between 2020 and 2030. That's a growth rate of ​17 percent​, which is much faster than the national average.
That being said, there is a smaller demand for marine veterinarians than regular vets for household pets. You should do everything possible to make your resume stand out. You may also have less negotiating power as a job candidate. Still, the strong job market combined with the high veterinarian average salary makes this an attractive field to enter.