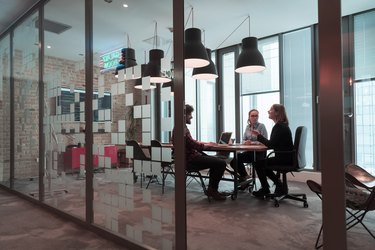 Creating a career plan is the first step in accomplishing your professional and financial goals for the future. While a job search may be part of developing your career path, it's not the same thing. A career plan goes beyond the job search to map out a manageable and measurable step-by-step action plan to reach your career goals.
Career Plan vs. Job Search
A job search is one way to advance your career and expand your career options, especially if you already have the certifications, experience and competencies to excel in the job market. But what if you want to switch careers or are new to the labor force?
The career planning process goes beyond the job search to set short- and long-term goals to help you land that dream job or enter a new field. A career plan will help you set professional development goals and make career decisions that move you along in your career.
Identify Potential Career Paths
It may seem daunting to lay down a career development plan, especially if you haven't narrowed down what your dream job is yet. Take heart: you do not have to map out your entire future. A career path begins with thinking about what motivates and moves you and which career direction calls to you.
The Bureau of Labor Statistics (BLS) reports that workers change jobs an average of ​12 times​ during their careers. Stanford University advises their students not to think about what they will do for the rest of their lives but instead think, "what am I going to try first."
This career advice doesn't advocate picking a job at random; it means that career exploration is just that: ​exploration​. And it starts with you.
Visit a local career center or find an online career self-assessment tool. By learning more about your strengths, personal preferences and interests, you can refine your list.
When exploring the career options that call to you, you'll want to note what skills, training and certifications are required.
To start, you can look at job descriptions. A job description will include an overall explanation of a role and outline the position's tasks, duties and responsibilities. It will also list the required and preferred education and skill sets. Visit the BLS Occupation Finder for more details about any career.
You can also visit the LinkedIn profile of a potential employer. Find people in the jobs you are interested in and look at their experience, education, licenses, certifications and skills.
As you get closer to narrowing down your career options, you may want to seek career advice from people in the field. Call a local career center or the human resources (HR) office of a company in the field and request informational interviews or job shadowing with a professional who can give you an insider's perspective.
Once you have a good idea of where you'd like to set your sights and what education and competencies you need to pave the way toward your career goal, it's time to set goals.
S.M.A.R.T. is an acronym that stands for Specific, Measurable, Achievable, Relevant and Timely. This type of goal-setting is an essential part of an effective career plan because it brings the long-term goal into short-term focus. It makes your goal attainable by breaking it down into a series of manageable milestones in specific timeframes.
For instance, instead of plotting to "be a project manager," you can set the goal of enrolling in a specific project management course and completing it by a particular date.
You can download a template for developing S.M.A.R.T. goals, like this one, from Microsoft Word.
To have an effective career plan, you must be committed to it. But your action plan doesn't have to be so strict that it closes your eyes to opportunities and possibilities that open up along the way.
Keep some flexibility in your plan. When designing it, focus on skills-building and experience that translates to overall career development. Don't be so future-focused that you miss out on the present. In your current position, look for chances to grow and learn. When you have job interviews along the way, ask career-focused questions to expand your knowledge.
In addition to a custom-designed career plan, each day you're in the workforce brings the opportunity to further develop your career path.