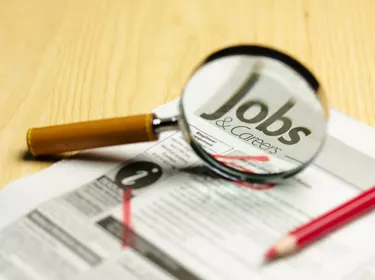 Any job search can be stressful, but if it's your first time looking for a professional position, that stress is magnified. Whether you're a recent graduate or you're still in school, there are some things you can do to prepare. By researching prospective employers and utilizing all resources available, you can boost your chances of landing your dream job.
If you're just leaving college, your major likely will factor into what your first job will be. Research existing job opportunities in your specialty and list your career goals to map out a long-term strategy.
Even entry-level positions might require you to have some basic skills, so think of details you can list in your cover letter or resume to attract hiring managers. Knowledge of programs like Microsoft Word and PowerPoint could be just what you need to get a job in your field. Be sure to emphasize soft skills in your cover letter and job interviews, such as great communication, a spirit of teamwork and a positive outlook.
Looking for a job is rarely a fun experience, but with the right research and preparation, you can position yourself for success.
Employers love to hire based on referrals, but if you're new to the workforce, you won't yet have a presence in the job market. The best place to start is at your college career center, where you can get help with job search strategies and learn about opportunities. Some recruiters go straight to college career centers for prospective entry-level workers, and you'll also often see job postings not available elsewhere.
Another thing you should do is line up some personal and professional job references that you can offer on-demand. This will come up during the interview process, and it will be easier to have them on hand. Reach out to former professors, family friends or anyone else you know who is willing to vouch for you to a potential employer.
Research Potential Employers
Before you start any job hunt, you should have a basic idea of where you want to work. Pull up a list of employers who hire in your field and look for job opportunities. Decide whether you're limiting your search to local employers or you're comfortable working remotely.
When you identify an employer you're interested in, look for mutual connections. Social media sites like LinkedIn are great for seeing where you might have an "in" with an employer. Start creating a network on the site so that when you do find a job opportunity you're interested in, you'll see any mutual connections.
Let People Know You're Looking
Job seekers can almost always find opportunities simply by letting people know they're looking. Not only can your friends and relatives offer career advice, some probably know of full-time and part-time jobs that are available that fit your qualifications.
One of the best things you can do to land a new job is to network within your community and industry. Attend local networking events equipped with a business card that has your contact information on it. Join professional organizations for your industry and network online. Someone you meet in a social media group or Zoom meetup could provide just the "in" you need.
Not having experience can be a liability, even for entry-level positions. Some recent graduates will have experience, whether through working in the family business or taking part-time gigs during summer breaks.
An internship can be a great way to get the experience you need for your resume. Search job boards and check with your school's career center or counselors to track down internships in your field. In addition to giving you experience, an internship can sometimes lead to a job, or at the very least, introduce you to important people in your industry.
Looking for a job is rarely a fun experience, but with the right research and preparation, you can position yourself for success. Make sure you take advantage of any resources available to those new to the job market and don't hesitate to reach out to friends who can help.