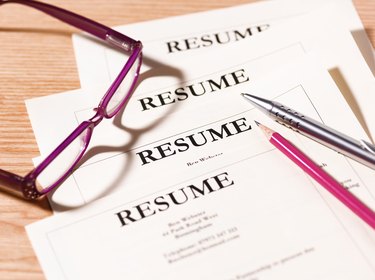 Resume writing is no easy feat, even if you have a long and impressive career. But building that first resume can be a huge challenge. If you're creating your first resume, it's important to get as much professional experience as you can to grab the attention of potential employers.
Start as Early as Possible
You don't have to have a college degree or even a high school diploma to start building a winning resume. Even your first job can apply toward your future career. Look for part-time jobs as a call center representative or a personal assistant that not only look good on a resume, but also help you build important connections.
The clubs you join in school can also help get you job-related experience to pack your resume. If you're on the student council or do any fundraising, you can add that to your resume. In college, joining the debate team or volunteering for opportunities within your degree program can help you land that first job after graduation.
Degrees and Certifications
Recruiters and hiring managers don't just look at work experience when reviewing resumes. Chances are, hirers will be looking for someone with at least a high school education. Study job descriptions of opportunities in your chosen field and look for the specific skills and degrees required so you'll know where to aim your efforts.
Even after you have that diploma, you can make your job search easier by landing certifications. This is especially important if you're in a technical field. The information technology field prioritizes Cisco or Microsoft certification, for instance. The good news is, you can sometimes get certified through online courses, and some are even free.
If you're creating your first resume, it's important to get as much professional experience as you can to grab the attention of potential employers.
Prioritize Experience Over Pay
No matter your education level, you aren't guaranteed a job. Last year, ​34 percent​ of college graduates were working in a position that didn't require a college degree. If you're in that position, one of the best things you can do is look at jobs that will build your resume, even if they don't pay as well as a job that doesn't give you relevant experience.
In a tight job market, an internship can make a huge difference. Some internships are paid, while others require you to volunteer in exchange for learning. Your college career center or high school guidance counselor may be able to connect you with those positions.
No matter your level of experience, it's important to make a professional presentation if you want a chance at a job. First impressions are everything, and the worst resumes will likely be discarded immediately. You can find resume builders that will help you create a professional resume in the resume format today's employers expect.
Before you start submitting your resume for approvals, check closely for any typos. Even if you've read the resume multiple times, you can easily miss fairly obvious resume mistakes. Ask a friend or mentor to conduct a quick resume review to spot typos and give suggestions as to how you can make the resume stronger.
For entry-level positions, job seekers often emphasize soft skills that will make them a great fit for the position in question. You can often pull great keywords from job postings for inspiration. If the job asks for skills like customer service, communication, adaptability or teamwork, those are items you can include in the "special skills" section of your resume.
Once you're finished with your resume, you'll need to create a customizable cover letter. Although you can use some of your cover letter as a template, you'll want to take time to customize it for every job. Often the cover letter draws hirers in, leading them to be more forgiving about a candidate not having years of experience.
With a combination of resume examples and templates and some extra work, you can create a resume that will capture the attention of hirers. Be sure to review your resume occasionally to make sure it has the latest information on your skills and experience.