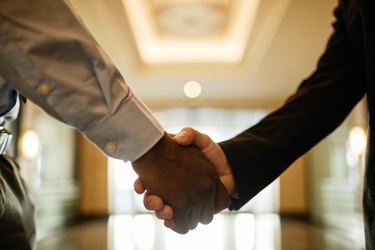 During a job search, your resume is often the first opportunity you have to stand out from the crowd and make a good impression. After all, your resume highlights the education and experience that is likely to make you a better fit for open positions than the next applicant. Once you have a polished resume, it is important to learn how to attach a resume to a job application and get it in front of people who make important hiring decisions.
Before you upload your resume to a job application, ensure that it is targeted toward the position you are hoping to secure. It is a good idea to tweak your wording and highlight different skills for each position you apply to. According to Minnesota State, it is important to ensure that your resume includes the following basic information:
Name, title and contact information
Objective
Summary
Work history
Education
Skills, achievements, interests or certifications
Check for industry-specific suggestions on resume formatting and any other required information. Ensure that your resume is pleasing to the eye, well-organized and easy to read.
Professional Networking Sites and Resumes
Some professional networking sites allow you to convert your profile into a resume that you can easily share with prospective employers. For instance, LinkedIn offers a Resume Builder feature that pulls all of the information from your social profile and plugs it into a basic resume. You can make changes to this resume based on the job you are applying for, without those changes being reflected on your profile page.
To access the LinkedIn Resume Builder, use the following steps:
Click the "Me" icon at the top of the screen and select "View Profile."
Click the "More" button under your profile picture and select "Build a resume."
Click on "Build from Template," then follow the onscreen instructions to complete your resume.
Once you have completed your resume, it will be stored on LinkedIn so that you can share it when you apply for jobs through their website. You can also download this resume to apply for jobs outside of the LinkedIn platform.
Upload Your Resume Online
Some online employers allow you to upload your resume during the application process. Typically, they ask you to complete basic information about yourself and your experience and then ask you to upload documents like your resume, cover letter and reference contact information.
Begin by learning how to upload your resume online. Look for the "upload" or "browse" button. You'll need to click on that and then select your resume from the proper location on your computer in order to upload it. Ensure that your resume is in the proper format. Some employers allow you to upload in a word processing format like DOCX, while others expect you to upload a PDF. Sites like Small PDF can help you convert your file before uploading, if necessary.
Sometimes online applications do not provide a space where you can upload your resume and share it with your potential employer. This usually does not mean that you cannot share your resume as part of the application process. Some of these websites provide spaces to type in the same exact information that would be on most people's resumes. In this case, you can select information in your resume, then copy and paste it into the job application.
When you want to go the extra mile, another way to get your resume in the hands of your potential employer is to email it to them. If you want to add a personal touch, consider calling their administrative assistant to give them a heads up that you have sent your resume and appreciate the opportunity to apply. Keep your greeting short, simple, professional and kind.