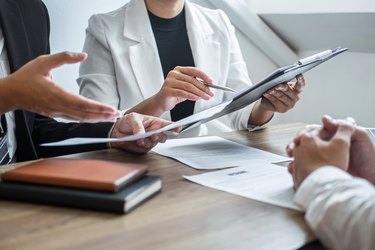 Resume or CV? The difference between a CV and a resume is well-known in academic circles. If you're the scholarly type aspiring to jobs in research or higher education, you will likely need a curriculum vitae, or CV. Otherwise, you'll get by just fine with a much shorter resume when you apply to jobs. Few employers have the time or inclination to read lengthy CVs. Application instructions generally specify whether you're expected to submit a resume or CV. The terms are used interchangeably outside the United States and Canada.
What is the difference between a CV and a resume? A resume and a CV share some similarities, which is why there's a bit of confusion. Both documents are vitally important because they highlight the qualifications that make you uniquely qualified for the roles and opportunities you're seeking. A CV is used if you're applying for college teaching jobs, research grants, graduate school or fellowships. The CV lists educational credentials at the top of the page after contact information, while the resume lists degrees after the work history section.
A CV is often several pages long and goes into painstaking detail. The CV focuses on degrees, research studies and positions of increasing responsibility that reflect intellect. The CV emphasizes erudite knowledge, whereas a resume focuses on down-to-earth practical skills. A resume is typically a one- or two-page document briefly summarizing work history and achievements.
Curriculum vitae means "course of life" in Latin. According to the Internship and Career Center at UC Davis, the name of the document is apropos because a CV spans your entire career starting in graduate school. The CV is considered a working document that is continually updated to include your latest research grant, courses taught, awards and recognitions, conference presentations, published text books and journal articles, for example. College instructors also submit a CV as part of the tenure review process or when requesting a sabbatical.
Your resume serves as a marketing tool that summarizes your marketable skills. The brevity of the document is intended to draw attention to the most important information. Recruiters seek highly qualified candidates who can perform the essential functions of the advertised job. A strong resume includes examples of what you achieved in your previous positions, such as surpassing previous sales records.
Princeton University further explains that a resume emphasizes work performance over credentials. Many employers, such as the federal government, will accept work or military experience in lieu of a degree. However, the kind of jobs that requires a CV typically have inflexible educational requirements. For example, college professionals typically have a Ph.D. or other terminal degree in their field.
Understanding what is the difference between a CV and a resume is important in writing and updating the documents. A CV is a chronological log that doesn't change; it just gets longer as you add more accolades and teaching experiences. A resume is designed to be highly customizable, which allows you to tailor your resume toward a particular position at a company.
A cover letter attached to a resume offers specific reasons why you're ideally qualified for the job. Skills not relevant to the job you're seeking are often omitted. For example, a transcriptionist would focus on speed and accuracy rather than customer service experience.
Use readable fonts such as Arial or Times New Roman when writing either a resume or CV. Jobscan recommends saving the file as a .docx for compatibility with Applicant Tracking Systems, or ATS. Virtually all Fortune 500 companies use ATS to narrow down applicant pools to a manageable size. ATS software automatically weeds out applicants if certain keywords mentioned in the job posting are missing from the resume or CV.