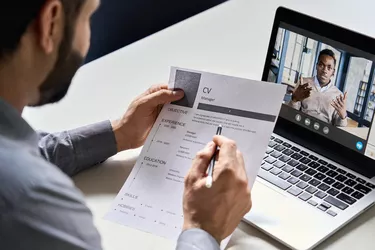 Gone are the days of mailing or dropping off resumes when you want to apply for a job. There are literally hundreds of websites available in 2022, all of them loaded with job postings and enabling you to apply for open positions with just a few clicks of your mouse or swipes on your mobile device.
The prospect can be a bit intimidating for first-timers, but it's a significant improvement when it comes to job hunting. An understanding of the process can help you get a job before you know it.
What Is an Online Job Search?
Job boards collect listings of available job openings, either from other websites or from their own subscribers. This allows job seekers to consider a wealth of job openings in a single place. Some sites are particularly well known, such as Monster.com and Glassdoor. Others are social media platform dwellers or specialty sites that focus solely on a certain field.
As with any job application process, applying online starts with that all-important tool: your resume. Many sites will allow you to post it online. Now you're not only responding to job listings, but you're putting your presence out there for other potential employers to take notice of as well.
You'll also send your resume to any job postings you're interested in. You might be able to submit it and an application right on the job search website, but some companies will direct you to their own company website portals and ask you to apply there. In either case, GCF Global recommends cutting and pasting your resume and application into your email and attaching them as additional documents as well. Some companies let you upload your documents from LinkedIn, which may help you get through any AI screening.
Including a cover letter is usually optional. It can be a nice touch, but some recruiters and hiring managers may see it as just another document to read and deal with.
You might also be asked to re-enter your information into an applicant tracking system or ATS, a software tool that's used by some companies to fish for certain keywords and terms. It then kicks aside resumes or applications that don't include them. The ATS and resume programs can require two separate account setups with some companies and websites.
Keep in mind that you may have a limited time to apply. UNESCO.org indicates that you have two months if you're applying to them for a professional position. Otherwise, it's just a month. Some recruiters and hiring managers won't even look at resumes and applications that come in after their deadlines.
You might also want to set up a job alert, a tool offered by many sites. You can enter information regarding the type of job or career you're looking for and your skill set, and the site will email you daily with any new postings and job descriptions that match your criteria. This can spare you hours of tedium sorting through new listings.
The next stage of your online job search won't be much different from days of old when you were mailing in and/or dropping off resumes, although the actual hiring process can vary slightly by employer. It just proceeds electronically.
You should receive some sort of confirmation email or notice that your resume and application have been received, but this is by no means a universal rule. Some companies won't respond at all at this point.
The individual or department in charge of hiring will make selections from candidates who have made it past the ATS test if the company uses that type of system. These selections will generally be invited for an interview. You may be asked for references before the interview, according to the Society for Human Resource Management, but some employers logically wait until the time of the interview before they request yet more documentation that must be sorted through.
You can typically feel free to reach out by email if a week or so goes by and you haven't heard anything from the employer. Simply reiterate your interest in the opening and ask if it's been filled. Indeed says that some companies can take an inordinate amount of time sifting through applications and resumes that pass ATS muster before they get around to offering interviews. It might be a phone interview, an in-person interview or a combination of both.
Pros and Cons of Applying for Jobs Online
Keep in mind that this is still the internet, and this comes with some risks as well as rewards. You're putting a great deal of personal information out there without any way of knowing who's looking at it. This includes your current employer if you're job searching because you're thinking about moving on to a new job. You could end up being let go before you're ready to move on.
Keep highly personal data like your Social Security number and date of birth to yourself. There's absolutely no need to share this kind of information on an online job application, and you'll want to be very wary of any "employer" who claims to need it at this stage.
GCF Global warns that some sites can also be prone to technological hiccups. Some are set up to timeout if you pause for too long as you're uploading your documentation and information. Oops, now you have to start all over again. That can definitely take away from one of the big pluses of applying for jobs online: the ease and all that saved time.
Then there's that ATS tool. They're not all technological Einsteins. They can be prone to reading and translation errors. GCF Global recommends checking the site version of your resume after you submit it, if possible, to ensure that your mention of "fact checking" isn't appearing as "face scratching."
You might also want to set up a job alert, a tool offered by many sites.
Tips to Make the Most of the Process
You won't want to rely entirely on a single approach in your job hunt. Consider combining your online job search with older, more traditional methods. Make some phone calls. Drop off a paper resume if possible. Look into the employer that's posted the job listing. Don't rely on the website to screen it for you.
As for those scammers who might be posting jobs that don't exist in an effort to cull personal information, a red flag should shoot right up if any site or would-be employer asks you to pay for anything at the time of application or even shortly thereafter, such as a background check.
And, of course, you'll want to follow all those tried-and-true resume rules. Don't exaggerate. Yes, you'll want to use certain keywords that appear in the job posting, but don't overdo it. Many ATS systems are designed to pick up on that sort of thing. Keep your resume simple, focused and concentrated.
And the old advice still stands: The more jobs you apply for, the more likely it becomes that you'll land one of them.