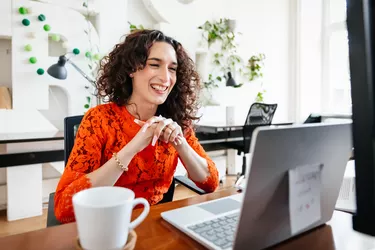 Low unemployment rates have been good news for employees, who now can afford to be selective in their job searches. If you're in the market for a switch, employee review sites can be a great way to find out whether a workplace is the right fit for you. Glassdoor Reviews lets you create an account and search reviews to give you a feel for a company's culture before you go through the work of applying and interviewing.
Glassdoor was founded in ​2007​ and launched in ​2008​ as a way to connect employers and employees. Although Glassdoor is popular with job seekers, its biggest benefit is in providing workplace transparency. Prospective employees can get a feel for an employer brand and company culture simply by looking at a business's Glassdoor presence.
The platform has ​62 million​ unique monthly visitors, with 65 percent participating in job search activities there. So it's no surprise that there are also ​2.2 million​ employers listed on Glassdoor, and now businesses are actively working to improve their Glassdoor profile. But one thing that sets Glassdoor apart from other recruiting and HR platforms is its review option. Each employer can be reviewed by current and former employees, whose identities are concealed by Glassdoor.
How Job Seekers Use Reviews
If you're in the middle of a job hunt, Glassdoor can be an invaluable job search resource. You can start by tracking down job postings in your industry, but once you find one you like, you can research the business. Each employer has a page that includes various information:
number of employees
annual company revenue
company website
affiliated companies
core values and mission statement
reported salaries and benefits
company reviews
typical interview questions
To look at any business's reviews, scroll down to the reviews section. You'll see an overall star rating, but you can also read individual reviews. Look at both positive and negative reviews and keep in mind that disgruntled employees may leave online reviews far more often than those who are happy or neutral about their workplace experience.
Glassdoor Reviews lets you create an account and search reviews to give you a feel for a company's culture before you go through the work of applying and interviewing.
How Employees Use Reviews
You don't need to be looking for a job to use the review section. Glassdoor offers an easy form for current employees to anonymously submit employer reviews. You can provide information on your employer's salary or benefits, the company itself and/or the review process.
To review a current or former employer, go to Glassdoor.com and create an account. Click on "Company" and search the company pages for the business you want. Click "+Add Review" and provide both a company rating and a text review. You will also need to list at least one pro and one con of working for that employer.
Glassdoor Reviews for Employers
Glassdoor isn't just a valuable tool for employees and job hunters. Employers can set up an employer profile and provide company information. But one of the most valuable things an employer can do on a Glassdoor company profile is to respond to employee and interview reviews in a positive, professional manner.
When responding to reviews, Glassdoor cautions employers to never reference the name of the person who wrote the original review, even if you think you know who it is, and to be professional and non-threatening. Following community guidelines is only one reason to stay professional, though. Job applicants will see those responses and base their judgments of your company on your tone.
Glassdoor can be a valuable tool for learning about an employer. Whether you're in the market for a new job or you're hiring candidates for your business, the insights you can get from reviews can be priceless. Employers need to keep an eye on their Glassdoor ratings and bear in mind that to remain competitive in the job market, they need to try to keep those reviews as strong as possible.