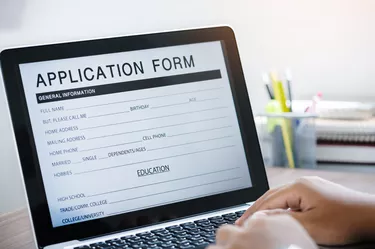 Monster is one of just a few names that are virtually synonymous with "online job search." It's a global employment website, not confined just to jobs within the United States, and it's one of the largest of its kind in the world. But that doesn't mean that it's a Goliath-sized challenge to access and navigate. Monster is really very easy to use if you go in prepared. And, it could very well land you a new job.
Monster has been around since 1995, according to Money Careers. It was one of the first companies to dive into the idea of placing the equivalent of help wanted ads and job descriptions on the internet. Money Careers indicates that the website gets about 35 million unique visits a month. It offers alerts, multiple search options and Monster's salary tools will help you estimate potential earnings for job titles in particular locations. It also provides some helpful articles if you need a little guidance in your job search, career options or industry analysis, and you'll have access to the "Monster 100," a list of employers and their company profiles for those that have posted the most jobs in the last week.
Monster isn't just a website. The company indicates that it's also available as a free, highly rated mobile app. You can use it wherever and whenever to keep tabs on and update your potential employment situation.
Job seekers make up the bulk of business for Monster, but employers obviously play a major role as well. It wouldn't be a job site without them. Employers must part with some money in order to post job listings and openings, although Monster offers free trials for their monthly "value plans" that will allow companies to post at least one job for free and up to five jobs for premium plans.
Monster provides a wide range of listings from entry-level and service jobs to professional positions, and you get a lot for your money given that no money changes hands, at least for job seekers.
Monster's home page is welcoming and easy enough to navigate. You can find the search you want right at the top of the page if the type of position you're looking for is one of a handful of popular jobs, such as "administration," "healthcare" or "work from home." Just click and you're on your way. You'll arrive at a jobs overview page with job postings down the left side. The postings allow you to "apply" or "quick apply." It's not your choice. The employer posts the tool it wants you to use. Links to all that helpful career advice appear at the bottom of the page.
Monster requires that job seekers sign up for an account, but you can upload your resume and make it available online after you do. Monster will help you craft your resume if you're not feeling particularly confident about it. You'll also want to create a Monster profile that tells recruiters just how awesome you are. Monster indicates that this will help the company better match you to jobs and appropriate help content. It lets you select just how available you want your information to be, ranging from private to public options. But keep in mind that prospective employers can't see your resume or profile details if you select the private filter.
You can save your job searches for easy reference, and you can ask for email job alerts for certain types of available jobs by going to "Account Settings" then "Notification Settings." You can set your alerts to keep an eye out for job titles or certain companies. You can also click on the "email me jobs" link on your search results page if you want to be kept in the loop. This option also lets you save your searches so you don't have to start from scratch each time you sign on.
Applying for a job through Monster is a simple matter of forwarding your already-uploaded resume or selecting your Monster Professional Profile instead, which includes all the bells and whistles such as your profile. Click on "Submit Application." The company you're applying to might direct you to their own website at this point.
Monster indicates that employers are typically ready to begin reviewing applicants as soon as they post their jobs on the site. Keep this in mind if you want to beat other applicants to the punch.
But this doesn't necessarily mean that companies will reach out to you immediately with a "yea" or "nay" for a job interview, particularly if your skills don't exactly match up with what they're looking for. The typical job-search etiquette applies here. You can politely follow up to find out where you stand, either through the site or by emailing the company directly if contact information for their recruiter or hiring department is included in their post.
Pros and Cons of Monster.com
Monster provides a wide range of listings from entry-level and service jobs to professional positions, and you get a lot for your money given that no money changes hands, at least for job seekers. The site and its services come free of charge for would-be job applicants, including that help with creating or polishing your resume.
But nothing's perfect, and Money Careers does cite a few flaws with the Monster website and service. You're out of luck if you want salary information to pin down how much specific jobs pay because the site doesn't include this. And Money Careers says its search filters are somewhat limited.
Monster warns that your application probably won't be saved to the site if the employer directs you to apply on its website, and you can forget about adding a cover letter or even considering cover letter samples because Monster isn't set up to accommodate this.
And keep in mind that employers must pay to get their jobs posted on Monster unless they've tucked into that little preliminary window of time when a few postings are free. This can discourage smaller employers from signing up and using the site if they generally only make a few hires per year. An ongoing Monster subscription just wouldn't be cost efficient for them. These companies might opt for a different job search engine instead, so you'd miss out on these openings unless you expand your search beyond just Monster job listings.
Tips to Make the Most of the Process
Even Monster acknowledges that you'll want to proofread your application and resume, then proofread it again, and perhaps even a third time before you submit it. You can't make any changes or updates after you do. The "apply" button goes inactive after you submit…and that's that. You do have the option of uploading a whole new resume, however.
Monster cites statistics indicating that job seekers are typically most actively looking in the fall. You might increase your odds of success if you wait until just after the first of the year when there isn't usually the same depth of candidates for employers to choose from. You'll have less competition, and that can be a good thing no matter how awesome your resume, your experience and your skills are.
And you might want to take advantage of the Monster feature that allows you to include a photo in your profile. It makes your contact with recruiters and hiring departments just a little more personal. Be sure to smile.