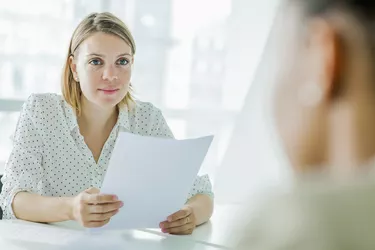 If you're looking for a job, your resume could be the most important tool you have. What employers prize in a resume is always changing. Creativity, for instance, is more important than it was in previous years, according to the National Association of Colleges and Employers.
The right resume service could give you a competitive edge.
Understanding Resume Services
Chances are, you aren't a professional job seeker, which means your resume creation skills might be less than stellar. Resume services can do everything from reviewing your resume to formatting and writing it. If you've used a template to format your resume, as many people do, these services can clean things up and even take the look to the next level.
Before you hire a resume writing service, though, it's important to know what to expect. Not all services are created equal. For example, it might be worth it to pay more to a company that has expertise in using the best keywords and phrases to help you make it through the screening filters that many businesses use when accepting resumes.
As with any professional you're hiring to perform a service, the cost of resume work varies from one provider to another, but you can typically expect to spend anywhere from ​$100​ to ​$500​, depending on the service. You can go on a site like Fiverr or Upwork and find someone who will take a look at your resume for a low fee. However, that doesn't guarantee that you're getting someone with the experience you need.
Before you pay for a resume service, look around at resources that might already be available. No matter how long ago you graduated college, for instance, alumni can often get help through the campus career center. The U.S. Department of Labor also provides free career assistance through career centers called American Job Centers located around the country.
Turnaround Times for Resume Services
If you're in a hurry to get started, turnaround time can be tricky. This is something to clarify up front while checking prices and qualifications. Some services can take a day, while others will tell you it will be a week, two weeks or even a month. Often this is more about how busy the resume service is with other resumes than how long it takes to edit or write yours.
The length of time might also depend on the level of help you need. If you're writing from scratch, a service might need an interview and several drafts to give you a usable result. If you simply need someone to condense your resume to fit on one page or refine your descriptions, it might be easier to find a legitimate service that can do these things quickly.
What employers prize in a resume is always changing.
Where to Find Resume Services
There are plenty of services out there, so it can be tough to determine which one is the best for your needs. First, carefully peruse the website of any service you're considering, checking out their portfolio of previous resumes and following links to testimonials. You can even ask to speak to a few former clients once you've narrowed down your options.
There are some red flags to look for when vetting resume services.
​No mention of ATS:​ Applicant tracking systems are an important part of applying for job openings. Resume services should advertise their ATS-friendly services.
​Fast turnaround and low prices:​ Resume services that emphasize speed and price might be skimping on quality.
​No interview:​ A good resume service will require at least a quick phone call to get to know you and your career goals.
​No testimonials:​ A service's website should include testimonials from previous clients.
Resume Services Pros and Cons
One of the best things about using a resume service is that they'll take an objective look at your career history and what you bring to the table. It's hard to be objective about your achievements, especially if you're feeling down after a string of rejections.
Perhaps the biggest downside to a resume service is the expense. A workshop and templates could achieve the same goal, and you'll learn from the experience. Nobody knows your qualifications as you do, and by writing your own resume, you could grow as a result. For that reason, writing your own resume and having a service review it might be a better route than having it written from scratch.