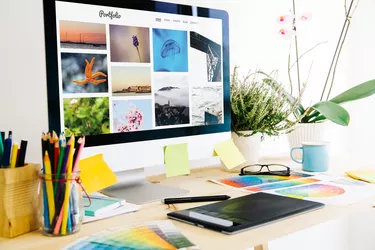 For media professionals, applying for work comes with some unique challenges. Prospective employers don't just want to see your work history. They also want to see samples of your work. Pressfolios is an easy way to showcase your writing, whether you're applying for a full-time job or freelance work.
If you're a writer, journalist or other media professional, you'll eventually need to showcase your work. You could set up a website, but that costs money and takes time. An online portfolio is typically all you need to demonstrate your work to people considering paying you to write for them.
Pressfolios lets you create an online portfolio that's visually appealing while also being easy to use. Designed for journalists, writers, reporters, bloggers, public relations consultants and other media professionals, Pressfolios allows you to showcase your work either by linking directly to websites or uploading an offline PDF.
Pressfolios as Resume Companions
If you're looking for long-term work, a resume will be essential. This will detail your experience, objectives and applicable personal interests. But the format of a resume is limiting for media professionals, so many businesses will ask for samples from applicants for creative positions.
The portfolio has long been a way for media professionals to display the best pieces they've created. Graphic designers and artists will pack a portfolio with their best designs or art pieces. But a portfolio can also be a way for a writer or marketing consultant to show off published pieces like articles, blog posts and landing page copy.
Pressfolios isn't free, but you can try it before you commit. You'll get a free trial for 14 days, during which time you can add up to ​12​ stories. You'll have full access to link to websites or upload PDFs of any offline clips during that time.
Beyond the free trial, there are two subscription options: Lite or Pro. The Lite plan costs ​$9.99​ a month and gives you room for up to ​250​ stories. If you want an unlimited number of clips, upgrade to the Pro plan, which costs ​$14.99​ and includes features like custom domain and analytics.
Setting Up Your Pressfolio
Once you have an account, it's time to start adding clips. There are two ways to build your Pressfolio portfolio: add from browser or upload a PDF. The easiest way is Quick Add, which lets you simply input a URL for the story you want to include. Pressfolios will pull in information from the article and you can just supplement it with whatever's missing.
Unfortunately, Quick Add doesn't always work, so you may need to manually copy over the title and a brief description, as well as uploading a photo. Uploading a PDF is similarly as easy, as long as you've saved it into a format that looks good. Once you have everything uploaded, you can organize your clips into categories to make it easy for potential hirers to sift through your work samples.
Writing Your About Section
Every Pressfolio has an About section, and this can be as short or long as you'd like. You can see a Pressfolios sample with a long About section to get a feel for what you'll include. Here, you'll write some text about yourself, input keywords for your skills and add links to all your social media accounts.
Content producers and media relations professionals who don't see your resume first will likely pay close attention to the About section, so it's important to really highlight your skills. As you go in to edit entry links over the weeks and months to follow, make sure you also occasionally check your About section to make sure nothing needs to be updated.
Once you've created your Pressfolios portfolio, you can either share the direct link or the category link with potential hirers. Whether you're looking for clients or tracking down a full-time position, Pressfolios can be a great supplement to your resume, giving you easily sharable clips that can help you land the position.