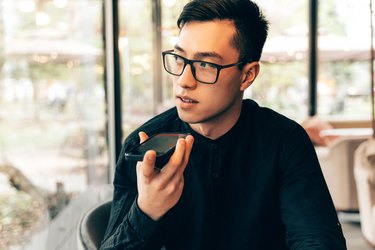 Freelancers make up a substantial portion of the working population, with an estimated ​16 million​ of ​150 million​ U.S. workers identifying as self-employed. But if you're self-employed full-time, you're essentially running your own startup, which means you need the right tools for the job. Alexa skills can save time and boost your productivity, as long as you take advantage of the full suite of available skills.
Calendar Management and Reminders
Freelancer schedules can get busy, especially if you're working with multiple clients. With a few extra steps, you can put your Amazon Echo or other Amazon smart speaker to work. You can add a date to your calendar or have Amazon Alexa read an appointment to you by merely asking a question.
For Amazon Alexa skills that require a connected app, you'll first need to open the Alexa mobile app and choose More, Settings and Calendar. You'll then link up your calendar and input your username and password. From there, you can state commands like, "Alexa, add a meeting to my calendar" to enjoy the feature.
To-Do List Creation and Monitoring
To-do lists can be a great way to boost productivity. Simply listing what you need to do and checking items off can be motivating. But returning to that list every time you think of something you can do takes time. Fortunately, artificial intelligence can help with that.
Alexa integrates with a wide range of task apps, including ToDoIst and Any.do. You don't even have to be an Alexa skill developer to add the top Alexa-integrated apps to your Alexa skills kit. Simply go into settings and add your chosen apps to get started.
Alexa skills can save time and boost your productivity, as long as you take advantage of the full suite of available skills.
Expense Tracking and Budgeting
Freelancers have many of the same financial challenges as small business owners. You'll need to track income and tax deductions to minimize your income at tax time, including expenses like the WordPress site you use to promote your business and the web development team who builds and maintains it for you. It might even help to set up a bank account specifically for your business.
Although there are many financial integrations with Alexa, one of the most useful might be Budget Bot. You can enable this tool in the Alexa skill store, at which point you'll easily add your expenses and pull up real-time analyses of your finances.
Communicate With Clients and Colleagues
At one time, you could have your smart home device read and send email by linking it to your Gmail or Microsoft Outlook inbox. That feature was disabled in late 2021. But you can stay in touch with others in a variety of other ways.
The most useful is likely LinkedIn, a social media network that lets you expand your connections. Connect your LinkedIn account to Alexa and access your feed or receive and send messages using voice commands. Alexa can also read and send messages from your connected Android device or iPhone.
Brainstorming and Team Collaboration
No freelancer exists on an island, and Alexa helps keep you connected. Whether you're working with clients on your own or through a platform like Upwork, you'll likely be occasionally asked to hop on a call. This may be where you're asked about your years of experience, but you can also use video or audio chat to brainstorm ideas and collaborate on projects.
When it's time to lock down your digital marketing or SEO strategy, Alexa can connect you to a call in seconds. Add the chat to your calendar and impress the project management team you're working with when you connect with a quick command. When you're finished with your call, you can even listen to your favorite podcast or have Alexa play music to entertain you while you work.
You don't need a programmer to put Alexa skills to work for you. In fact, no software development experience is necessary at all. Just set up your smart speaker and use the app on your phone to connect Alexa to the apps you use to run your freelance business. Soon, you'll be able to run your business on a series of voice commands.