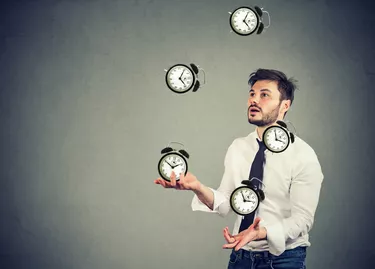 Starting a full-time freelance business isn't easy. It will take a strong work ethic and excellent time management. Systems need to be put in place for both the freelancer and any other freelancer that is hired. Constant marketing must be done. But in doing all of this, how do you manage your freelance business?
System for Time Management
Your freelance career goes beyond just doing the work. Whether you're a freelance writer or a graphic artist, task management and monitoring your workflow are imperative for success.
This is your own business and needs to be run like a business. First, you need to lay out a weekly plan. Using the Gantt system will help your workflow. It will help with time tracking projects, task management, what sources are being used and more. Good project management keeps you on schedule.
If you're overloaded, a virtual assistant may help. Use a virtual assistant to perform the mundane tasks that are primarily busy work but needed. This will give you the free time necessary to concentrate on important projects.
Another way to relieve your workload is to hire new freelancers.
Outsourcing New Freelancers
A successful entrepreneur will often become overwhelmed with new business. At that point, it's time to hire new freelancers. But in doing this, you'll need a good project management tool to keep track of what the freelancers are doing.
Trello lets you collaborate and manage projects and organize tasks. It starts with a Trello board, lists and cards. It allows you to customize as your team grows.
Trello has built-in automation that has robots performing mundane organizational tasks, like scheduling assignments and giving notifications of upcoming deadlines.
Asana is another strong project management tool. It also has a main board and allows you to develop a messaging framework. This will enable you to always stay in touch with team members. You can also manage overlapping and dependent unscheduled tasks. It gives your team members plans that you create by writing a campaign brief.
Whether you're a freelance writer or a graphic artist, task management and mon itoring workflow are imperative for success.
Have Sound Accounting System
A business owner needs a well-managed and effective accounting system. It starts with setting up a freelance business bank account. You don't want to combine your business income and expenses with your personal bank account.
Bookkeeping is not the glamorous part of a freelance business, but it is necessary. To track cash flow, it's important to have a strong accounting system.
FreshBooks has easy-to-use accounting and bookkeeping features. You'll impress your clients with professional invoicing. Your invoices will show your work and correspond with what it costs. If a client wants to use a credit card to pay you, FreshBooks can accommodate that. It will also send automated invoice reminders.
Quickbooks is also great for a small business. It has the capability of autotracking expenses and income. You'll also be able to pay your freelancers or virtual assistant.
Quickbooks has a free mobile app that lets you monitor your cash flow on the go. They'll give you a guided setup with a live bookkeeper who will walk you through the process.
Reaching and Keeping Clients
Reaching and keeping new customers is imperative for the sustainability of your small business. Have strong customer relations management (CRM) to maintain your current customer base.
Reach out to business owners through social media. You can either post on your own or purchase advertising. But social media is a strong vehicle for reaching old and new customers.
Remind your current and past customers about your services through email marketing. Mailchimp can help you with that. It will send old customers and new customers automated marketing. This is a direct and effective way to market your freelance business.