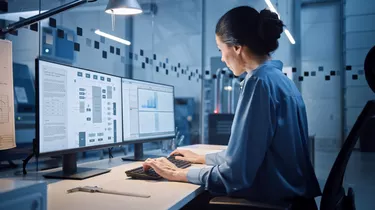 Project management apps have become all the rage. They help with organization and fuller communication when working with a group. One project management app is ClickUp; it can be used for task management. But does ClickUp simplify your project's process and help with time management?
ClickUp considers itself the best management software and states that its mission is to make greater productivity worldwide. They developed a cloud-based app that is making significant strides with this mission.
ClickUp is an all-in-one project management tool that provides a workspace for various team members. ClickUp eliminates the need to use several different apps to accomplish a goal.
It streamlines processes. ClickUp allows groups or teams to keep all processes from design to development in one place. It allows for integrations between various departments such as development, customer service, operations and marketing. Ultimately, it allows easy workflow among team members. This can simplify your business and personal life.
There are features that facilitate team members for collaboration. For example, ClickUp has a communications option that allows team members to have threads of conversation relating to a specific project.
You can embed bookmarks or add tables to format what you need. For instance, you can embed roadmaps to knowledge bases. ClickUp also allows you to create a Wiki or document with styling options.
ClickUp offers different views to display projects. An added feature allows integrations with over 1,000 tools. For instance, you can embed:
Docs from Google Docs
Appointments from Google Calendar
Boards from Miro
Projects from inVision
Forms from Typeforms
Views from Airtable
ClickUp automates routine work in real-time and processes with 50-plus action triggers and conditions. You can customize or use pre-built automation systems. You can also leverage hundreds of templates for views, tasks, checklists, docs and more. A dashboard allows you to bring project indicators into one place.
ClickUp's mobile app is compatible with iOS and Android. This lets you use it on the go. It is also compatible with desktop computers.
As a replacement tool for all other tools, ClickUp is designed to be an all-in-one project management software.
Price is often a determining factor for a project management tool. ClickUp offers a free plan that has a lot of the paid plan features. Best for personal use, it provides you with access for unlimited users.
ClickUp's business plan is $5 per member per month. Although it has unlimited users, it's best for small teams like small businesses. One of ClickUp's close competitors, Asana, also has a free basic plan. But Asana is more expensive with similar features. Their business paid plan is $13.49 per member per month if you sign up for one year. But if you want to pay monthly, it's $9 per member per month.
In addition to a low rate, ClickUp also offers the option of negotiating a monthly rate per member.
ClickUp has a few competitors when it comes to project management software. One, of course, is Asana.
Asana is best for medium-sized businesses although it can work for any size team. It's best for tasks and offers the most free active users of the following competitors. One downside is that it doesn't offer strong phone support.
Another competitor is Trello, which is a Kanban tool. This means it is a visual management solution. Trello assists teams in visualizing workflow and gives them an overview of the work status. It allows simpler communication among team members. Unfortunately, it doesn't offer strong phone support.
Although Slack is used for communication, it's not project management software.
As a replacement tool for all other tools, ClickUp is designed to be an all-in-one project management software. Besides all its features, it has the most native integration system. In addition, ClickUp has strong phone support.
One issue with ClickUp is the number of features. It overwhelms some team members and has a steep learning curve. So, sometimes it's difficult to convince people to use it. The steep learning curve is particularly difficult when onboarding new staff. Loading times can be slow, and sometimes their doc system is unstable.