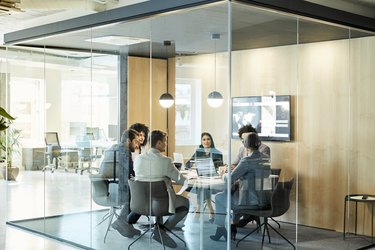 Whether you're a freelancer or operate a small business with a team, you might seek ways to more easily manage your workflow and daily project tasks to boost your productivity. Marketed as a work operating system, Monday.com has various features that help with customer relationship management (CRM), project management, marketing, automation and more. It also has multiple plan options for different types of businesses and teams. Explore some FAQs to decide whether Monday.com is the best project management software for you.
What Is Monday.com Used for?
Available through its website and iOS and Android mobile apps, Monday.com is known as an intuitive alternative to other project management software like Wrike. For example, you can use it to make Gantt charts, create boards with tasks, assign items to team members, track project progress, manage task times and communicate. There's also functionality with different project management techniques since you can switch between different views for the task boards to fit your needs.
While the basic platform focuses on overall teamwork management and communication, Monday.com offers additional specialized products targeting different business needs. These focused options include:
What Else Does Monday.com Offer?
Monday.com is also highly customizable for your business since you can create applications that fit your needs. It features a wide selection of templates for projects in different industries such as manufacturing, design and real estate as well as templates targeting business areas such as marketing or human resources. You'll also find templates suitable for startups and freelancers. Using these templates will save you time versus creating a workspace manually.
In addition, you get tools for integration with popular products like Slack, the time tracking tool Asana, Salesforce, LinkedIn, Zoom and Dropbox. It also works with Gmail, Trello, Excel and Jira among many others. The integration means that you can conveniently continue to use tools that your business is used to through the Monday.com platform.
Monday.com's automation abilities also come in handy throughout the basic platform and its specialty products. You can get automatic notifications about due dates, new communications received and changes to task statuses. You can also set up the software to automatically assign tasks and send emails to customers to save you time.
You might find that Monday.com saves you money if you're able to reduce wasted time spent on providing updates, tracking projects and managing tasks manually.
What Are the Monday.com Plans?
You can choose from five plans when you purchase a main Monday.com subscription, and the price will depend on the chosen plan and the number of team members you have. These main plans don't include extras like Monday Marketing or Monday Sales CRM since those have different pricing plans. However, you can expect these plans to include basics such as unlimited boards and docs, some storage space, basic team collaboration features, the Kanban view for task management and around-the-clock customer support.
​Individual ($0)​: This free plan is a good option for freelancers since it supports two team members, 1,000 items and 500 MB of storage. However, you don't get integration with Zoom, unlimited viewers for free, integrations and automations or access to the calendar view, timeline view or chart view.
​Basic ($8 per​ ​team member​​)​: Similar to the free version, this basic plan lacks Zoom integration, automations and access to the other views. However, you do get unlimited free viewers, unlimited items, 5 GB of storage and the ability to add as many team members as you want to pay for.
​Standard ($10 per​ ​team member​​)​: The Standard plan provides more storage space and a longer activity log, lets you integrate Zoom and provide guest access and allows for 250 integrations and 250 automations monthly. You also get access to the calendar view and map view.
​Pro ($16 per​ ​team member​​)​: Offering a wider selection of features for business owners, this plan includes unlimited guest access, a one-year activity log and 25,000 automations and integrations every month. It also allows for time tracking, lets you access workload reporting features and use the chart view, and supports private boards. You can also use Google to authenticate.

​Enterprise​ ​(custom quote)​: Designed for the largest companies, the Enterprise plan expands the file storage and activity log duration, allows for 250,000 each for automations and integrations monthly, allows you to use premium integrations and provides the highest uptime and customer service access. You also get enhanced privacy and security features such as being able to use a single sign-on method. This plan also comes with additional administration options such as private workspaces along with analytical tools.
Subscriptions to the specialty products like Monday Marketing will come with the core Monday.com features and have Individual through Enterprise plan options too. Prices are more expensive (except for the free plan) and vary by product, plan and team size. You can check the current prices on the company's website if interested.
Deciding Whether to Use Monday.com
If you look at a Monday.com review, you'll often see that businesses mention how the platform helps them save time, better track projects and team members as well as ultimately work more productively. You might find that using Monday.com saves money if you're able to reduce wasted time spent on providing updates, tracking projects and managing tasks manually. This will allow you and your team members to focus on more important tasks. In addition, using this one platform with its many integrations can be more convenient than switching between multiple apps and services.
Choosing the Right Monday.com Plan
If you decide to use Monday.com, you'll want to make sure you choose the right plan for your needs and don't pay more than your business can afford. You'll want to carefully weigh the monthly or annual cost against the benefits you expect in terms of increased productivity or increased revenue.
If you're a freelancer or just starting a business, for example, you might simply choose the free plan for the main Monday.com platform as well as the specialty products. That way, you can reap some benefits despite the limitations of the free plans. But if you have a small business and need a paid plan, you'll need to examine which features you need and multiply the plan price by the number of team members. In addition, keep in mind that the specialty products will cost more and can add up.
To see the real-world effects on your business's productivity, you can either start out with the free starter plan or get a free trial for a paid plan. If you decide to move forward with a paid plan, you can save money paying annually versus monthly. The site also offers discounts to students and certain businesses such as nonprofits.