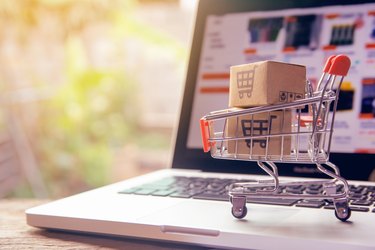 Setting up an online store can take time and some tech know-how. But there are many tools now available that can help. GoDaddy can be a good choice for your online store if you sell physical products through your website or platforms like Facebook, Instagram, Amazon or Etsy.
GoDaddy initially became known for its domain hosting services. But in recent years, the company has expanded its offerings to include website building services that prioritize the customer experience. Those services include a do-it-yourself online shop builder that lets you get started with no plugins and no installs required.
GoDaddy's online shop builder is a relatively new service, thanks to GoDaddy's 2019 Sellbrite acquisition. This purchase gave GoDaddy the templates and technology to make it easy for businesses to sell items directly on their websites. With GoDaddy Sell Anywhere, you aren't limited to selling on your GoDaddy site, either. You can sell on social media, on marketplaces like Etsy and Amazon, or directly from your website.
GoDaddy makes it easy to set up and manage a store with minimal technical skills.
GoDaddy Sell Anywhere Pricing
If you want to sell merchandise online, fees are an inevitable part of the process. But with GoDaddy, you'll also pay fees for your website hosting, in addition to what you pay for your domain. GoDaddy's basic plan for web hosting is ​$6.99​ a month, which will likely cover most of your online selling needs.
With Sell Anywhere, you'll also need to pay ​$24.99​ for an ecommerce plan, although you can get started and enjoy basic features for free. If you're using Sell Anywhere to sell on multiple stores using marketplaces like Etsy, there will be fees there as well.
As for fees, GoDaddy promises the lowest transaction fees in the industry. You'll pay ​2.3 percent​ plus ​30 cents​ on every transaction. There are no hidden fees.
Pros of GoDaddy Sell Anywhere
GoDaddy is one of many resources for selling online. There are a few things that set GoDaddy apart from the competition.
​Full suite of products:​ If you already have your domain and website hosting through GoDaddy, adding Sell Anywhere will keep everything in one place. You'll even use GoDaddy Payments for processing.
​Easy to use:​ With GoDaddy Sell Anywhere, you can set up your store in a day using templates and a drag-and-drop interface.
​Mobile-friendly templates:​ Each of GoDaddy's templates are responsive, which means your site will look great regardless of the device being used to view it.
​Social media shopping:​ With GoDaddy's social media integration, you can sell products directly on Facebook and Instagram. Customers can shop and buy items directly from your social media feed, with all your payments tracked on your GoDaddy dashboard.
Cons of GoDaddy Sell Anywhere
GoDaddy might not be the best fit for everyone. Before you sign up for the service, there are a few downsides to consider.
​Limited templates:​ GoDaddy Sell Anywhere offers more than 100 templates, which is a robust selection, but there are services that offer more. You might even find a service that lets you use digital downloads as your store template.
​Cost:​ The ability to set up a shop and sell everywhere online is free, but if you want to connect a custom domain or offer flexible shipping options, you'll have to pay for an e-commerce plan, which costs $24.99 a month.
​POS Costs:​ For in-person services, you'll need a terminal, which costs an additional ​$249​, or ​$49​ for a card reader. You can shop around and find e-commerce solutions that let you use your existing tablet or a tablet that you can purchase for a much cheaper price. Some e-commerce providers throw the card reader in for free.
Whether you're selling online services or products, the easier you can make things for potential customers, the better. GoDaddy makes it easy to set up and manage a store with minimal technical skills. Price multiple services before you make a decision since you may be able to find the same offerings at a lower cost elsewhere.